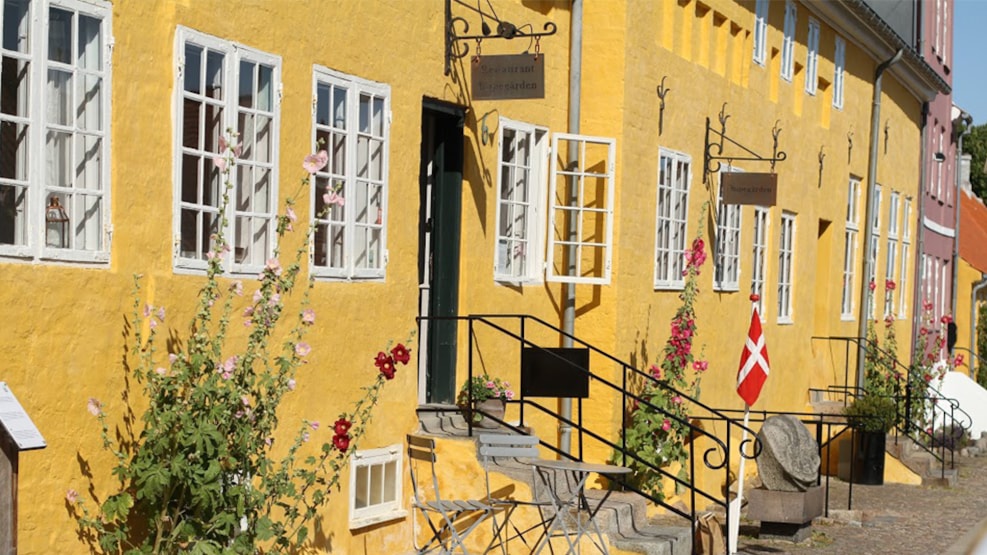 Bistro Bispegården
– casual French atmosphere
In short, Bistro Bispegården is honest food with no frills. Quality local and organic produce lay the gastronomic foundation for an unsnobbish kitchen with food that does not pretend to be something that it isn't – it's unpretentious, lovely meals that taste well and make you leave on a full stomach. The hostel's culinary concept has been moved into historical surroundings with Bistro Bispegården. The historic building in the old city centre invites you inside the rustic kitchen. Based on French bistro ideals the idea is, that you drop by for the meal of the day – add a dessert if you would like – if you don't have time to cook or would rather meet up with friends for a glass of wine or two.
The bistro oozes a casual, homely feel in the simple and traditional rooms with an atmosphere that will immediately make you feel welcome. Let your shoulders down and relax – we don't care much for formalities; we serve reasonably priced homemade food made from scratch with seasonal produce. We suggest you start with soup, salad or a selection of charcuterie followed by the day's special. Round off the day with one of the gorgeous, homemade desserts – typically served with seasonal fruits or berries.
You do not have to book the entire evening to visit Bistro Bispegården, but you will probably want to stay in the cosy atmosphere for a few hours. An informal dinner at Bistro Bispegården will simply make you happy and satisfied.
You can book the bistro for festive family or business. The event menu will be made in consultation with you, in respect for the bistro's culinary philosophy.
The produce
The wine and beverage menu features simple, quality beverages. Organic beer, Italian red and white wine, a Beaujolais, or a chemical-free white Austrian Grüner Veltliner. Try a fun aperitif from Norhlund on Mols or an organic soft drink.
Most of the meat served at bistro comes from Mineslund, a local organic farm. Some of the vegetables are from Røsnæs, and the flour for the homemade bread comes from Mejnert's Mølle, located east of Kalundborg.
Menu examples
Appetiser of the day 
Stuffed courgette in tomato sauce seasoned with herbs from the garden and served with homemade bread.
Meal of the day  
Organic beef cooked with sage and Serrano, served with oven-fried potatoes, dressing, and seasonal vegetables – the menu of the week features two fresh salads, e.g. cauliflower salad with tahini cream and a coloured salad with baked peppers.
Vegetarian dish of the day:
Same as above without meat, obviously, with more vegetables added.
Dessert of the day DKK  
Homemade, warm raspberry pie with whipped cream