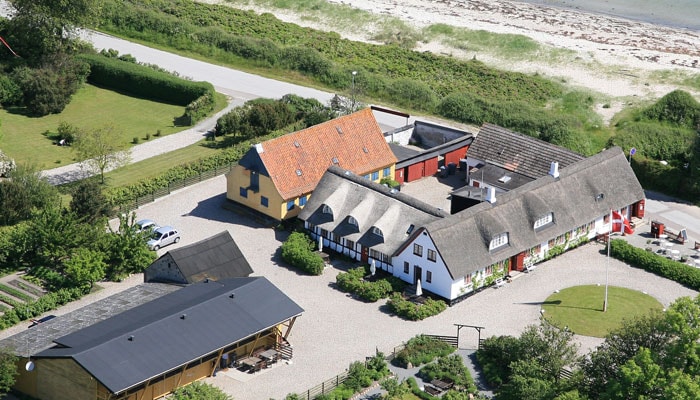 Den gamle Købmandsgård
The old merchant's house offers unique experiences!

Apartments near the beach and harbour
The old merchant's house  has seven apartments with 3-9 beds – a total of 38 beds. Decorated in old, authentic style. There are only 100 meters one of Samsø's best sandy beaches – and is located in the middle of Ballen harbour and several restaurants.
Companies with up to 80 participants
The Old Merchant House is ideally suited to celebrate family feasts and celebrations, accommodating up to 80 people. The Old Merchant House offer the possibility of helping to plan and organize your party so that your stay will be an unforgettable experience!
Course organization in an inspiring environment
The Old Merchant House also provides the perfect place for courses with space for 20 participants in bright rooms. Additional people can sleep at the local hotel nearby. There is wireless network, copiers and projectors.
Guided tour inside and out
The story of 130 years of trading company on Samsø, exhibition of well-preserved textiles, old documents dating back to its founding in 1844. The tour finish in the Old Garden, where the group enjoys a refreshment.
See hours at the Old Merchant House website.
Afternoon visits
Købmandsgården in Ballen is also a museum, where in July and August is offered "Tour and refreshment" on Wednesdays and Sundays at 3.30 - 5 PM. Please register in Den Gamle Butik or on +45 8659 0001. - Also "Extended Visit with coffee table and lecture" typically at 2.30-5.30 PM, which are arranged separately for groups of at least eight. Agreed in advance on +45 86590001 or info@kobmandsgarden.dk.