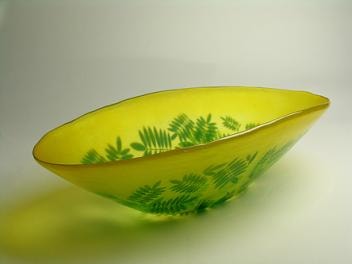 Else Leth Nissen Glass
Else Leth Nissen is her own person. She prefers to work alone and runs her business single-handed. She is also very much her own person when it comes to methods and products. From her popular eggcups to her extreme, unique objects with distinctive designs. They stand out from the crowd.For example, she works in many layers, each requiring different treatment before design and colour fall into place. It does not bother Else Leth Nissen that the process is difficult, arduous and slow. As long as the result is OK.
She starts her craftwork from scratch. For example, she blows her own glass plates to use as the basis for her pots and dishes.