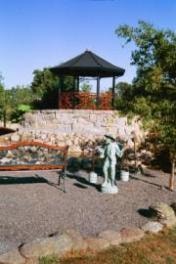 Fuglesang Haveparadis
Situated two kilometres outside Svaneke overlooking the Baltic Sea and ChristiansØ Island you find Fuglesang an 11,000 square meter English/Japanese inspired garden. Fuglesang is a former smallholding where Else-Marie and Sven Erik Knudsen have laid out a garden from the scratch. The garden is divided into small sections and a 63-metre pergola passageway interconnects the entire garden. The more than 400 different varieties of roses are the garden's common denominator, complemented by rocks and water.
The garden was designed by Else-Marie and also includes many different lilacs, Siberian crab apples, mountain ash, hundreds of lilies, large beds of perennials and many rare trees and bushes.
You are welcome to bring the lunch or coffee and enjoy it in the garden.
But your dog have to stay outside.