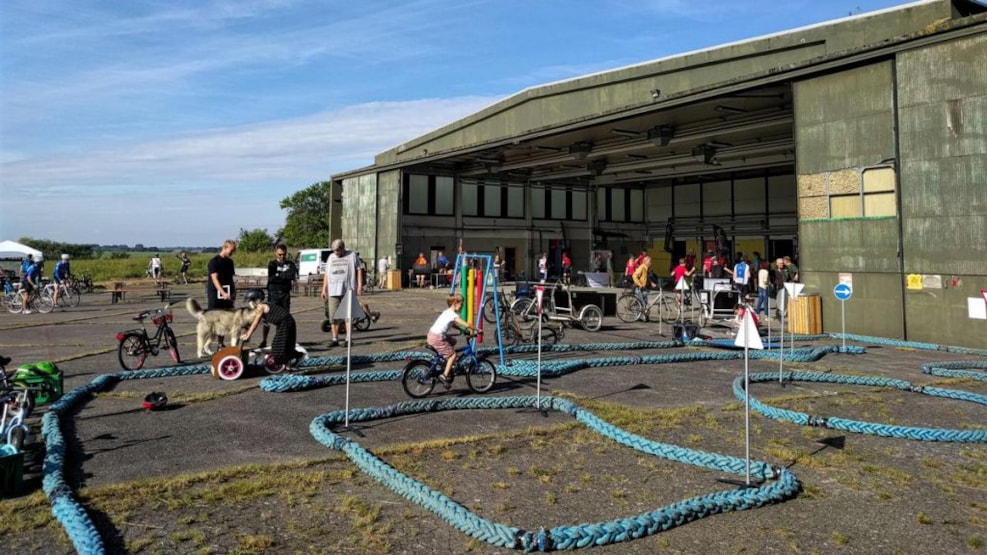 Picnic at the former air base in Værløse
Parking and rental of bikes at Hangar 46, entrance at the end of "Sandet", 3500 Værløse
Prebook at booking@mtb-tours.dk
11:00-16:00
The National Museum's open house in Hangar 46
Historical Military equipment
Watch 'The Great Battle in Mini-Format', 12:00-14:00
Make your own 1984 rag doll, 11:00-14:00
Free admission
Guided tour, 13:00 & 14.00, 50 DKK
12:00-15:00
Kiss the Pope
Experience the site where Pope John Paul II kissed the ground and lost his hat when he arrived on 6 June 1989. The event takes place at the airbase below Lånshøj, in front of the Queen's reception rooms at the airbase. Follow the yellow 'camino' arrows. Speeches and acoustic music.
Hangar 2
10:00-16:00
Historic aircraft and high-flying stories
The old vintage aircrafts land at 10:00-10:30 and take off again at 15.30 on the large runway, which will be blocked off during this time. Listen to stories from former pilots and aircraft engineers.
11:00 & 13:00
Pilot school for children
Join the pilot school in Hangar 2. For children 5 and older. All participants will receive a certificate.

11:00-16:00
Play like your great-great-grandfather
The Settler's Street Party in cooperation with Bonava
Come and hear about the new neighbourhood and the vision for the airbase.
11:00-16:00
Cycling play route for young children
11:00-15:00
Taste the organic treats of Furesø with Furesø's kitchens & school gardens
Let the kids create an eco-friendly picnic surprise for the family picnic basket.
11:00-15:00
Plant workshop with TagTomat
Get tips and tricks for how to arrange your vegetable garden on your balcony or in your garden.
11:00-15:00
Bob the Builder for a day
Hop on a digger and get a feel for what it takes to build a house.
11:00-13.00
Picnicjazz & Hula Hop Along
The Jazz trio 'Blind Date' play festive picnic jazz
Watch Miss Mia's fantastic hula hoop show and try it yourself!
11:00-15:00
If you get hungry, try one of the selected street food bikes selling food with local products
11:45
Denmark's longest picnic
Bring your picnic blanket and help us set a national record.
12.00
10-year anniversary speech by Mayor Ole Bondo Christensen
12:00-14:00
Geocaching, highly addictive, GPS-based treasure hunt for the whole family. Come and try!