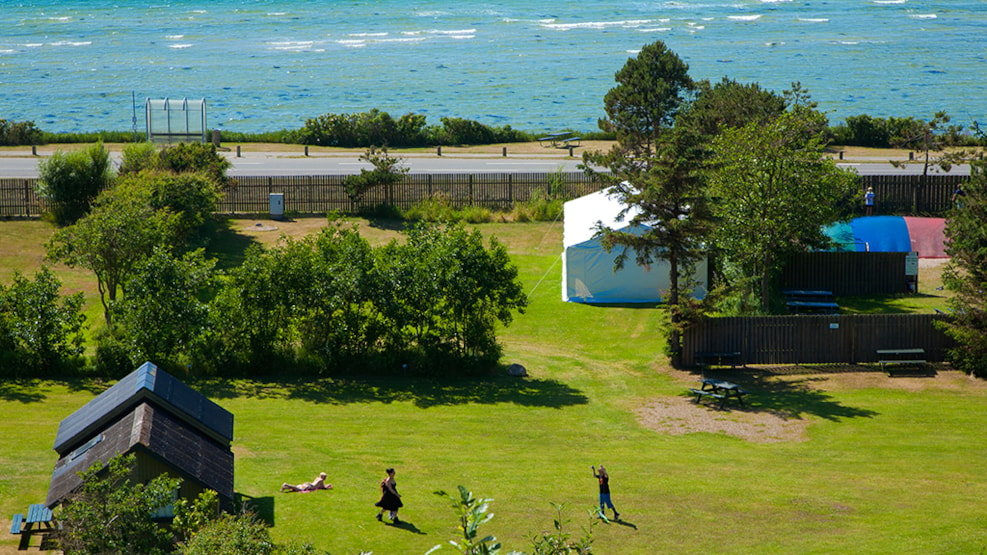 Sælvigbugtens Camping
Sælvigbugtens Camping is a family campsite situated in the middle of the island right next to Sælvigbugten (bay). A place with fun, nature and relaxation. You can bring your tent, caravan etc. and settle down. Or you can rent one of the cabins or a room overlooking the bay. Also a great place for larger groups. 
Located next to the protected scenic Stauns Fjord area and just a stone's throw from Sælvigbugtens friendly beach the site supplies the environment for a wonderful stay on Samsø.
Camping
With the small hill "Lille Vorbjerg" in the middle, the camping spots is spreaded out like a fan from the foot of the hill. The site is divided into several cozy sections where there is space for both caravans, large and small tents, camper vans, combi-vans or camplets. In the middle of the site there is a modern facility building with kitchen, living room, family bathroom, toilets and showers, baby changing facilities and laundry facilities.
Camping cabins
On site there is the possibility of renting new well-equipped cabins with or without shower/toilet. The cottages houses 6 people and is divided into two separate bedrooms and a living room with a kitchen area.
Rooms
The site also has large bright double rooms or family rooms overlooking Sælvig Bay. All rooms are with bath, WC and access to fully equipped kitchens. Furthermore, there is a wheelchair-accessible double room.
Banquet hall
Outside peak season you can rent a banquet hall with a large kitchen for  family reunions, company parties, courses, etc. Sælvigbugtens Camping are happy to help the program. Stay in cabins or rooms.
Prices 2022
Camping: Adults: DKK 97, Children: DKK 52, Electricity: DKK 40, Environmental tax: DKK 9, Dog: DKK 10
Rooms: Double rooms from DKK 535 – 695
Glamping: Kyholm from DKK 735 - 835. Hjortholm from DKK 680 - 780.
Cabins: from DKK 610 – 820 – Electricity DKK 4,00 per kwt.
In high season (week 28 – 31) cabins are only available for rent on a weekly basis (Sunday to Sunday).