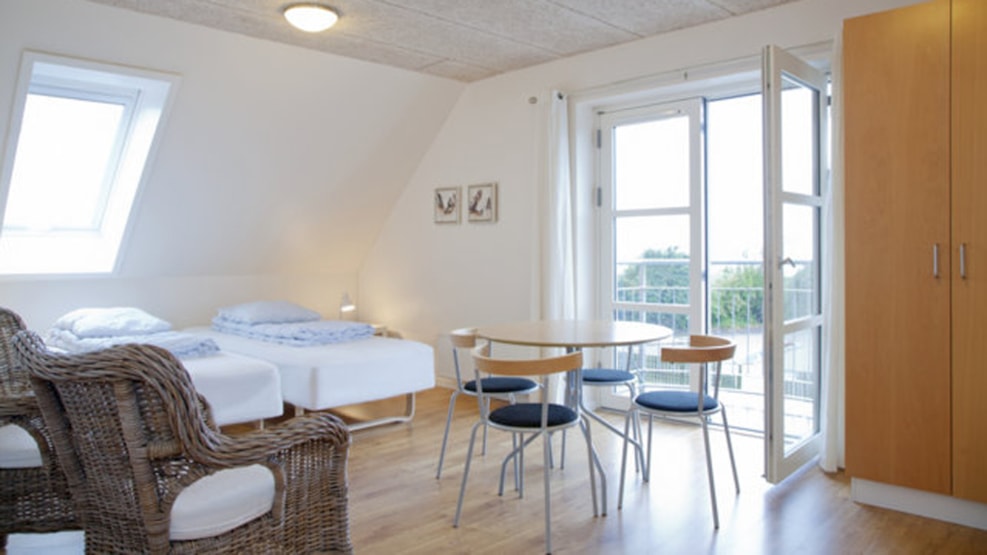 Sælvigbugtens Camping - Værelser
On the first floor of the campsite's main building, there are 6 new large, light and nicely furnished double rooms / family rooms most of them with views over Sælvigbugten (Sælvig Bay) available for rent. Furthermore, there is a wheelchair accessible double room on the ground floor with the possibility of an extra bed.
The rooms have anywhere from 2 to 5 beds and therefore can easily accommodate the whole family. Each room has its own bathroom and access to a fully stocked kitchen. There is also a common living room where you can eat your meals or play board games with your neighbour.
In total, there are 30 rooms in this section of the building that can be used for small groups. The common areas allow you to enjoy each other's company while it is also possible to retreat to your own room when you get tired or need some alone time.
Blankets and pillows are available on site but you need to bring your own bed linen and bath towel or rent these at the campsite.
Outside of peak season, fully or partly catered stays are offered. The camp directors are available to help you plan your event.
Prices 2022
Off Peak
Double Room 535 DKK
1 bed 114 DKK
2nd, 3rd and 4th bed 62 DKK
Peak Season (3/7 - 14/8)
Double Room 695 DKK
1 bed 155 DKK
2nd, 3rd and 4th bed 62 DKK