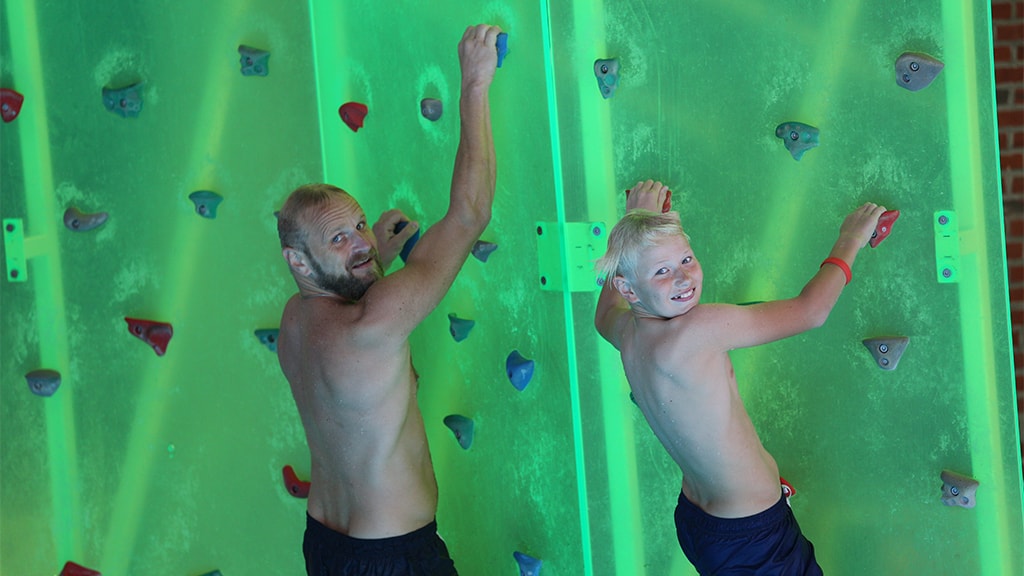 Sportscenter Denmark, swimming pool
Ideal for fun water activities with the family and friends, and whether you are a recreational or competitive swimmer.
Our 25-meter pool features 27°C warm water. And in the diving pool you can jump from 1, 3 and 5 metre springboards. In the children's pool, the water is 32°C. We have lots of playthings, such as kayaks, water polo goals, etc., which you can use as a visitor to the swimming pool. And if you should fall from our climbing wall into the swimming pool – well, then you're in for a big splash!
If you prefer more leisurely pursuits, then we also have a sauna, steam room, spa, massage jets as well as cold and hot tubs. Out in the open air, we have wooden hot tubs.
During opening hours on Tuesday nights, we have quiet swimming hours, i.e. without jumps from springboards. This means that jumping from springboards is not allowed, lights are dimmed and relaxing music is played.
Please note that the swimming pool can be busy with competitions or training camps. Always check opening hours before visiting us.
Current opening times can be found here (in Danish): http: //www.vejenic.dk/abningstider/