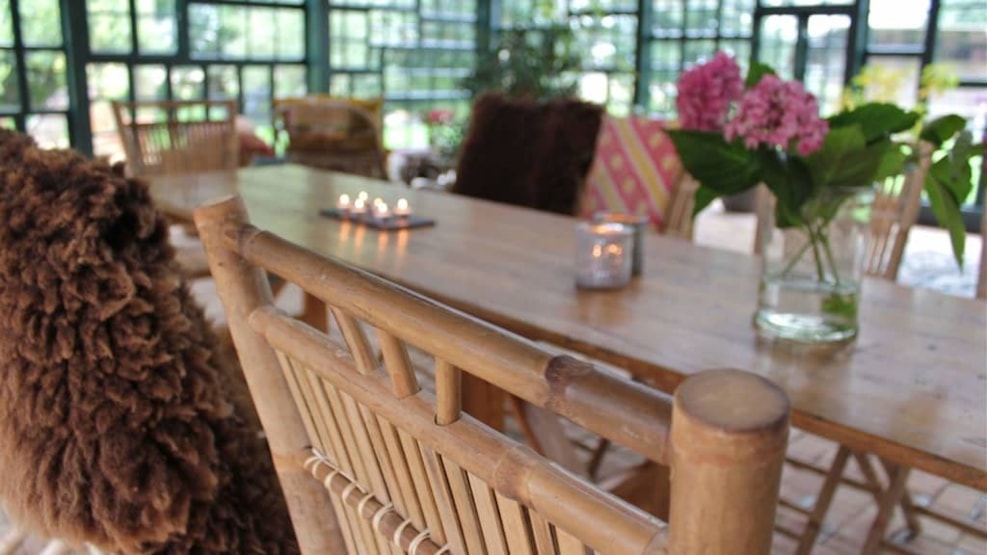 Den Gamle Avlsgård
Den Gamle Avlsgård always gives you a warm welcome.
Enjoy a very special dining experience at the modern retreat Den Gamle Avlsgård.
We have been certified with the Ministry of Food Agriculture and Fisheries'Organic Cuisine Label in Gold and select the best local and organic ingredients for your meal.
Adults and children over 10 years old are welcome.
No loud conversations – gain greater enjoyment of the beautiful setting with low conversations.
Turn off your mobile phone and enjoy the tranquillity.
Green Food Evenings are the last Thursday in February, April, June, August, October and December. The menu typically consists of lamb, fish or poultry. Different accompaniments are made from seasonal vegetables. We serve delicious slow-rise bread. Vegetarian food has a large place in our kitchen. Finish off with coffee/tea and cake or something else sweet. Come and enjoy a cosy evening in beautiful surroundings.
Open for lunch on weekdays: Monday, Tuesday, Wednesday and Thursday
Warm dish of the day DKK 175 beautifully decorated and served.
Lunch must be pre-ordered at: kokkenet@dengamleavlsgaard.dk
Day meetings and courses: day meetings, courses and smaller conferences can be held in our beautiful meeting rooms. We will take care of all your meals, giving you time to enjoy your work and give you greater concentration.
See more on our website: www.dengamleavlsgaard.dk