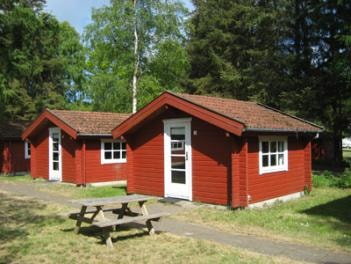 Rønne Nordskov Camping
Family camping grounds located right next to a splendid sandy bathing beach. We have room for you, regardless if you arrive with your own two-man tent or a seven-metre caravan. Or if you decide just to pack a suitcase and want to rent your accommodation, we have comfortable cabins or caravans. We have something for every taste and pocketbook.

If you are bringing your own tent or caravan, please note that our plots are unnumbered. In other words, you find a plot yourself.

We have areas for light-travelling campers (where motor vehicles are not allowed), tent sites where car or bicycle may be parked next to the tent and plots with electricity hook-ups for the caravan where the car may naturally be parked next to it.

Our campsite is designed for guests who appreciate peace and quiet without a lot rowdy behaviour. The island has such a wide variety of things to experience, it's nice to have a peaceful base to return to.

Camping means being one with nature while sharing the company of many others. At Rønne Nordskov Camping, your children will find new playmates right off, as the language barrier is almost non-existent.

If you choose Rønne Nordskov Camping, you will be close to everything the island has to offer. We are the perfect base for excursions to the entire island, no matter if you have your own means of transportation or are dependent on the public transport company.

Welcome to Rønne Nordskov Camping.