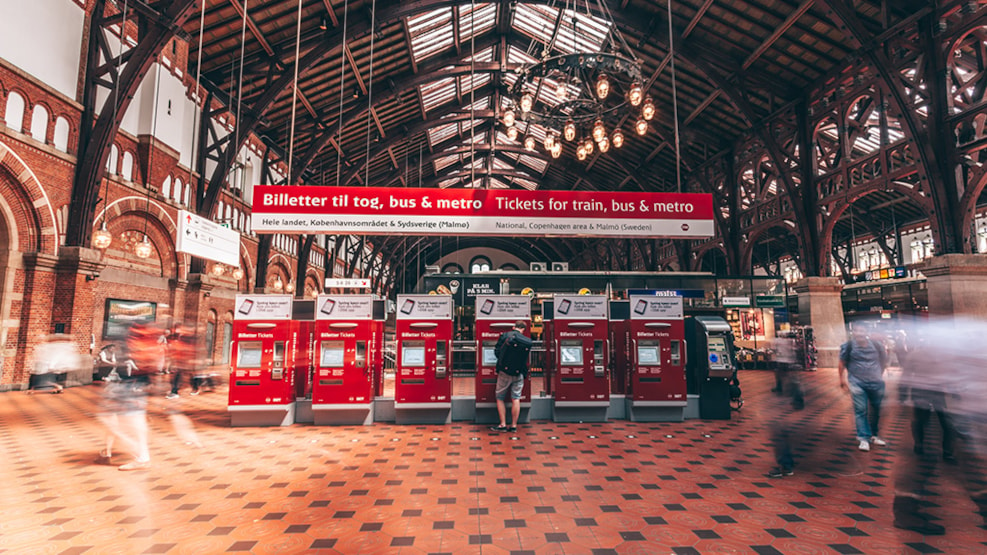 Trains and Metro
Tickets, fares, and discounts

In the Greater Copenhagen Area, you can transfer freely between buses, Metro, trains and the yellow "harbour bus" using the same tickets and discount cards.

Regular tickets a can be purchased from vending machines and ticket offices. On buses you can get a regular ticket from the driver. Only Danish currency is accepted and only cash - the drivers carry only small change. 

Copenhagen is divided into transport zones. The centre of the city and the inner suburbs of Frederiksberg, Østerbro, Vesterbro, Christianshavn, and Islands Brygge are all located within zones 1 and 2. This means that when travelling around the city by public transport, you basically need a 2-zone ticket (DKK 24).

If you are travelling anywhere outside the centre or inner suburbs, you need to purchase extra zones. When going from the centre to the airport, you need 3 zones. 

You can also get a City Pass for zones 1, 2, 3, and 4. There are two types: 24 hours for DKK 80 and 72 hours for DKK 200. Finally a 24 Hour Travel Card entitles you to unlimited transport in the Greater Copenhagen Area/all zones (DKK 130). These types of cards are available at train stations and at the Visitors Centre.

Alternatively you can buy a Copenhagen Card which apart from the free transport in all zones also gives you free entrance to most museums and attractions. There are four types of CPH Cards: 24 hours, 48 hours, 72 hours, and 120 hours. Ask at your hotel or at the Visitors Centre.

Trains & Metro to the airport

Trains run to the airport every 10 mins between 5:00 and 20:00. After 20:00 until midnight, trains run at intervals of 20 mins. After midnight, trains run every hour at 3 minutes past the hour from the Central Station. The trip to the airport takes approximately 15 mins. and costs DKK 36.

The Copenhagen Metro runs to/from the airport at very short intervals. Are you headed for the Kongens Nytorv/Nyhavn area, Nørreport or Frederiksberg/Vanløse it is most convenient for you to take the metro. The Metro to/from the airport is the same price as other means of public transport: DKK 36.

Metropolitan trains - S-tog

The metropolitan train-system - S-tog - is a convenient way of getting around if you are going somewhere outside the city-centre. Trains are very frequent (every 10 mins. on most lines) until around 6 p.m. After 6pm, trains run every 20 mins. The S-trains are particularly useful when going to Frederiksborg Castle in Hillerød (Line A or E) or to ARKEN, Museum of Modern Art, in Ishøj (Line E-direction Køge). Bakken Amusement Park is serviced by Line C to Klampenborg. All S-trains are red.

Metro

Copenhagen's new Metro system runs at 4 min intervals until midnight, after midnight the metro runs all night long at longer intervals, 7 days a week. There are no Metro services to/from the Central Station. The Metro is convenient when going from Nørreport Station to Kongens Nytorv (Nyhavn) and the Fields shopping centre (Ørestad Station) or to the airport form certain parts of town - see above. Several Metro extensions are planned.

Rest of Denmark

There are frequent train services from the Central Station to the rest of Denmark. Please enquire at the Central Station.

You can call 70 13 14 15 for further information.

International

Frequent trains run from the Central Station to all parts of Europe. For further information, please enquire at the Central Station or call 70 13 14 16.

To Malmø in Sweden

There are trains to Sweden every 20 mins from Østerport, Nørreport, and the Central Station. The trip takes approximately 35 mins. Trains stop at the airport. Fares to Malmø are DKK 85 one way and DKK 170 return. The Central Station in Malmø is in the centre of the city. Across from the Central Station in Malmø, you will find a local tourist office. Staff here will gladly help you with any questions you may have concerning Malmø City.

Please call 70 13 14 15 for further information on trains.