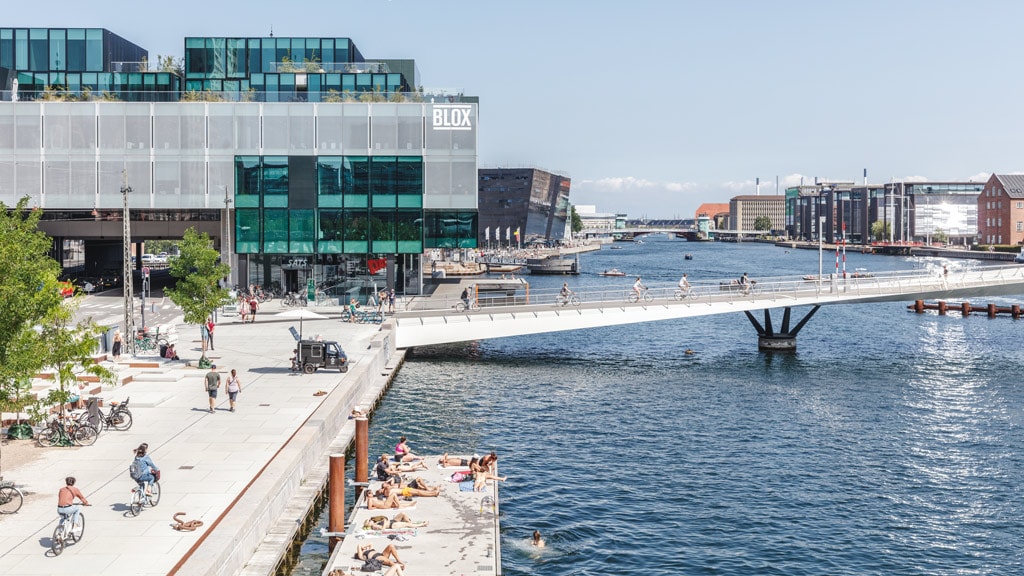 BLOX
Besides being a distinctive building on Copenhagen's harbour front, BLOX with its public squares, urban living and bike bridges is a great example of the city's development and sustainable urban planning. Especially around the harbour once industrial now full of life and experiences.
When entering the iconic structure, designed by world-renowned architect firm, OMA, you can visit Danish Architecture Centre, the café BLOX Eats, the design shop and enjoy supreme views of the harbour. And outside the family can explore the playground and relax on the recreational areas by the water.
With BLOX, a once rather deserted part of Copenhagen has been transformed from boring parking area to vibrant urban space and a meeting point for everyone where new infrastructure with the bike bridge Lille Langebro is a great example of the sustainable urban development which BLOX symbolises and which characterises today's Copenhagen.  
Bring the kids to the playground, visit the exhibitions outside on the squares or inside at DAC and get a hands-on understanding of modern architecture, design and sustainable urban development.
The place is the center of a number of new bridge connections, which are being constructed across and along the harbour. Connections tying Copenhagen and the city's harbour together with the new harbour promenade its playgrounds, fitness centre, restaurant and cafe.