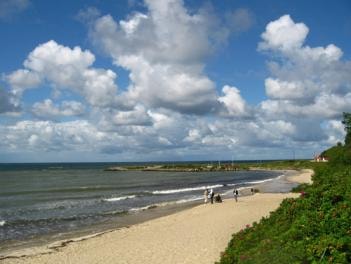 Boderne Bornholm
Boderne is a lovely, sandy beach on the south coast.

Here you can find your own little hollow in the dunes. You can play ball on the beach and at the water's edge. You can go for a swim and dive off the large rocks in the water.

The beach starts at the small boat harbour, where there is a hotel, kiosk and clothes shop, not to mention excellent toilet and parking facilities.

At the end of the beach there's a military training area, but it's rarely used during the season. When in use, the area is closed.