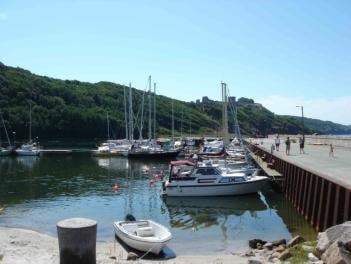 Hammerhavn Bornholm
In the late summer Hammerhavn Harbour is one of the best places for herring fishing and a good place to start a fishing expedition around the Hammerknuden nature area.
Starting at the harbour and all the way to Sandvig, the deep water extends all the way in to the base of the cliffs, and fishing is good all year round. Even though the first section of the path is high above the Baltic Sea, there are many ways to climb down, like at Kælderhalsen.
The stretch leading up to Sandvig consists of skerries, rocky coves and small natural harbours where fishing is good.