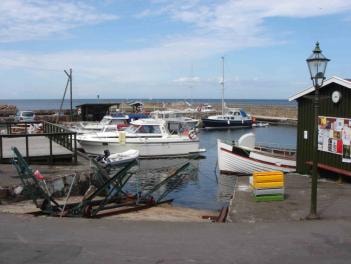 Hellig Peder Bornholm
The stretch is a long pebble beach, which is very difficult to wade on, but there are great chances of getting a beautiful sea trout. Big stones, sandbanks and skerries make it attractive for both fish and anglers.
Kæmpeå Stream is a restricted-fishing zone that is off limits from September 16 to January 16. The zone starts 100 metres north of Ravnebæk and ends at Hellig Peder Harbour.
You should fish this stretch several times. At first from Ravnebæk southward to where the path turns away from the sea. Next, try the area between the two harbours, and end your day near Gines Minde where the water is quite deep.