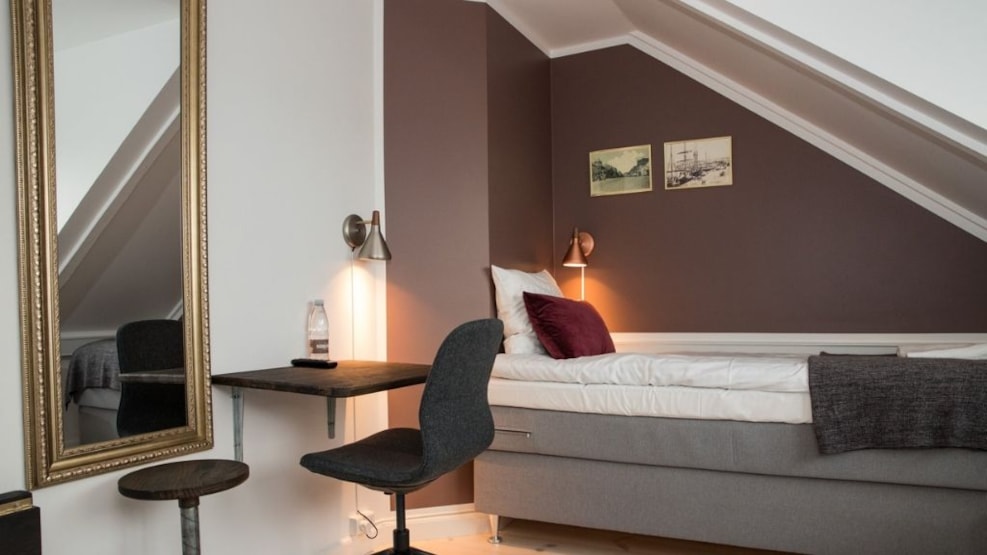 Hotel Sidesporet
A cozy hotel in Holbæk with a view of the fjord. 
Hotel Sidesporet is centrally located in Holbæk with a view of the fjord. From the hotel you can walk to the historical ships on the harbour of Holbæk, the fjord, the main shopping street, Holbæk Museum, Holbæk station and many other attractions.
In Danish the word "Sidesporet" means "the sidetrack", because this is the place, where you will be sidetracked from your busy everyday life – you will forget about it for a while - and enjoy the easy-going atmosphere at the hotel. A true experience of Danish hygge.
The hotels friendly personal is always ready to help you and advice you and the many attractions in the area. The hotel also has its own restaurant and a cozy courtyard, where you can enjoy the different meals of the day.
Holbæk's former hostel
Formerly, Hotel Sidesporet was a hostel, but today it has been transformed into an adorable hotel. Every room is unique and furnished after their name. One room is, for example named "Nyvang", after the city's historical attraction "the cooperative village Nyvang" in which you can experience life in the 1930s. Therefore, the room is styled in the elegant style of the 1930s.
Wellness-getaway at Hotel Sidesporet
Hotel Sidesporet owns the unique Turkish Bath in Holbæk. Therefore, you can book a wellness-getaway with unlimited access to the Turkish bath. The Turkish bath is a true spa experience. Slip into the warm water of the outdoor pool, from which you have a beautiful view of the fjord; enjoy a drink and some fruit in a cozy indoor area; and treat yourself with a massage.