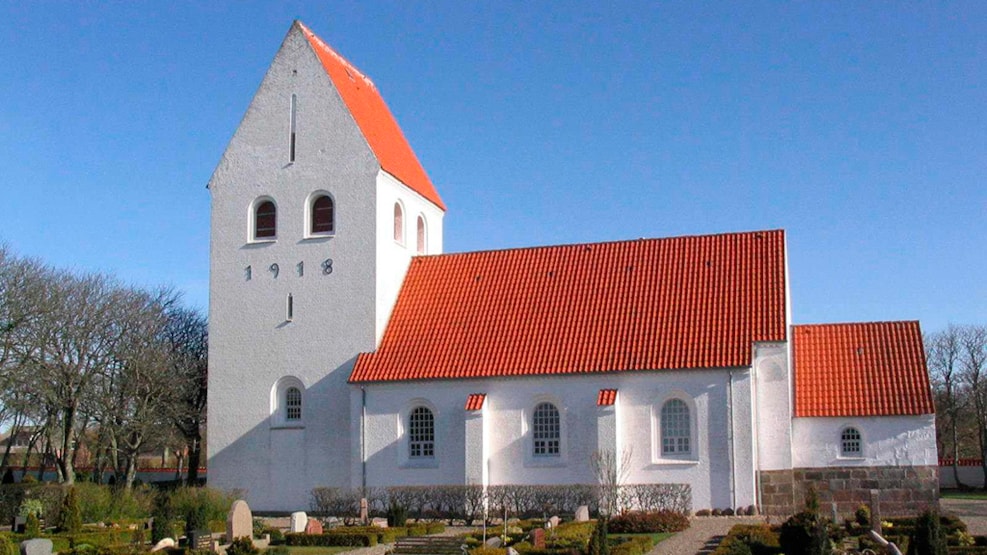 Jegindø Church - Thyholm
Jegindø Church - Thyholm

The church of Jegindø is situated beautifully where all the roads of the island meet, and the large white building can be seen from far away across the waters of the Limfjorden. The revival movement of the Home Mission (an evangelical branch of the church of Denmark) was strong at Jegindø, and the old church was soon too small, so in 1919 they built this new spacious church. It cost DKK 65,000 of which DKK 12,000 was collected on the island.

The eastern part of the old church is kept as chancel and vicar's room. The ashlars tell that here has been a church since the time of King Valdemar. Many names on the tombstones show that most of the original population of fishermen came to the island from Harboøre at the North Sea.

The white vaulted roof has an overwhelming effect when you step into the church. The altar- piece was made by Hans Snedker in 1598. The painting of Jesus on the cross is from 1880. But the beautiful inscriptions of the Lord's Prayer, the Command of Baptism, and the words of the Holy Communion are from 1750, just as the Latin text: Beati, qvi ad coenam nuptiarum agni vocati sunt (Blessed are those who are invited to the Lamb's wedding meal). The two wings have small paintings from the era of pietism (in England: Evangelicalism). At the top, with an angel's head on either side, appears Jehovah's name in Hebrew letters.

The pulpit from 1640 has untraditional paintings in the sections, namely from left to right St. John, the evangelist, holding a cup and a book, Christ with the globe, and St. Paul with the sword of the Word. A Latin text: "Anno 1654. Jesus Salvator, salva nos" means: "The year 1654, Jesus Saviour, save us."

In the wide chancel the vaults are decorated with fairly new frescoes with eight scriptural passages put in.
The baptismal font from the first period of the church has a small Nürnberg basin from about 1575 with the Fall as a motif.

In the side wing hangs a beautiful and carefully executed model of the frigate Dannebrog. The figurehead is a little porcelain figure. Furthermore, it is rather unusual that 38 pew gables from 1643 have been preserved. Also the organ loft, which was moved in from the old church, dates from the same era, as Rasmus Snedker from Nykøbing put it up in 1647. The bells are from 1463 and 1947.