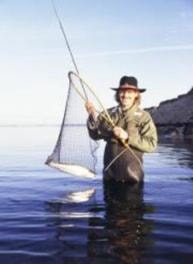 Kildehusene
Driving directions: From Nykøbing you follow Egebjergvej in the direction of Egebjerg - about 5 kilometres. Turn left by Skaverupvej. Shortly after there is a parking lot (by the forest).

Fish species and season: Sea trout can be caught the whole year, but specially in the cold months. Garfish in May. Mullet in spring and in the autumn.

Bottom conditions: Shallow area with spots of eelgrass. Waders are necessary. Because of the low water bubble float and fly can be recommended.