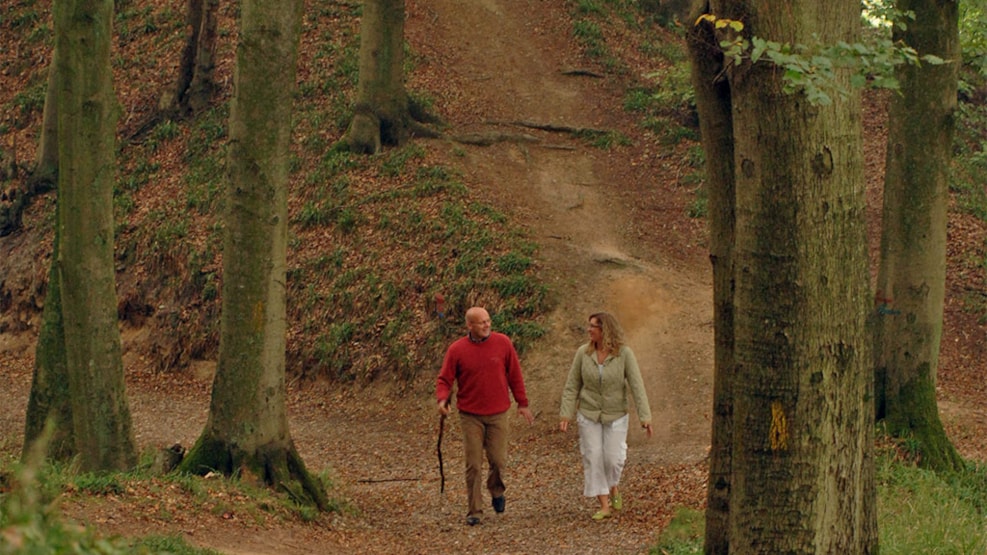 Munkebjergskoven Forest, Vejle
Munkebjergskoven is a beautiful forest along the south side of the Vejle Inlet with steep slopes and hilly landscape. On a tour in the forest you will be awarded with vigorous vegetation and beautiful views of the Inlet, such as at Munkebjerg Hotel. Here you can walk up a 218-step staircase up to Munkebjerg Hotel or drive along a mountain road with hairpin bends. In the forest you will also find Denmark's most beautiful golf course, Vejle Golf Club, which forms artificial, green clearings in the forest. Munkebjergskoven is also popular among mountain bikers.
The steep hills of Munkebjergskoven Forest stretch along the south side of Vejle Bay. The very rolling trip along the trails of the forest is awarded with vigorous vegetation and beautiful vantage points. In clear weather, Ejer Bavnehøj appears to the north.
The beech usually blooms right here in Munkebjergskoven Forest as the first place in Denmark. The forest is also the home of the old yew tree. The dormouse is only found in very few forest areas in Jutland and Munkebjergskoven Forest is one of them. The black woodpecker is known by its characteristic voice that echoes through the forest.  

The forrest lake was dammed up in 1885 and carps and water-lily were put out in the lake.   

As a part of the forest, you will find Vejle Golf Club's courses, which form artificial, green clearings. And the hilly terrain also makes the forest popular with mountain-bikers.   

From the terrace of the four-star Munkebjerg Hotel, you can enjoy the magnificent nature.       

In 1933, the tenant of the former Munkebjerg Badehotel, installed the famous rolling stairway to Munkebjerg. Today, the 200 feet long stairway has been replaced by an ordinary wooden stairway.   

At Ibæk Beach, you will find a kiosk, a natural playground, a bonfire and a simple camp ground.