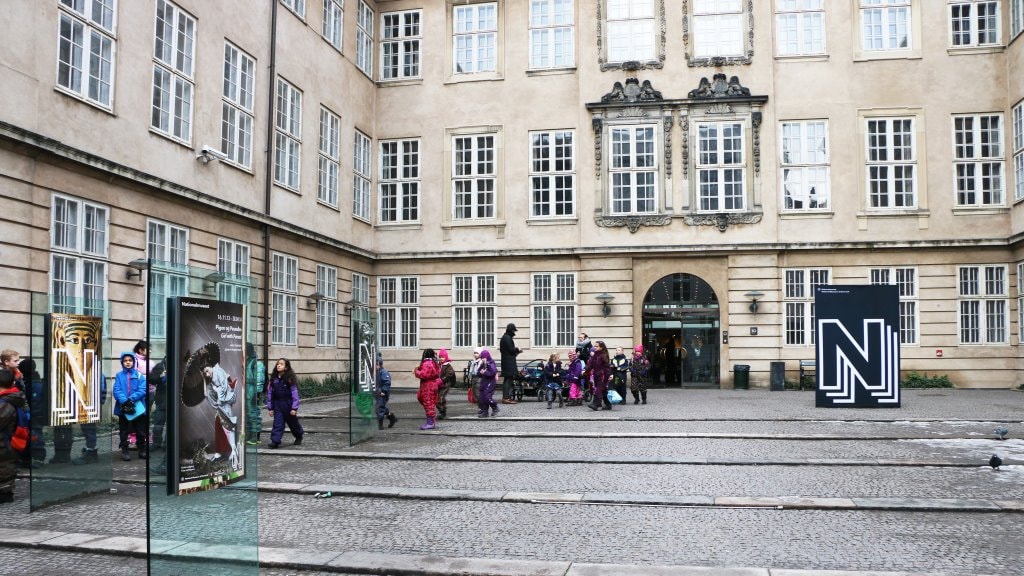 The National Museum
Travel back in time in Denmark's history with exhibitions from the stone Age, the Viking Age, the Middle Ages, the Renaissance and Modern Danish History inside this 1700's palace.
The National Museum is located in The Prince's Palace, built in 1743-44. It is no longer used by the royal family, but the Great Hall still appears elegant enough to fit princes and princesses.
 
The Gallery consists of a wide corridor that linked rooms and sleeping quarters, and featured plenty of space for exquisite handicrafts. The stucco in the ceiling, the panels and the oak parquet floor are all thought to be original. The furniture and stove are from the early 18th century.

Permanent collections

The National Museum boasts a very large ethnographical collection, a collection of classical and near eastern antiquities, a coin- and medal collection, and a toy museum. You can also visit the Victorian apartment Klunkehjemmet, practically unchanged since 1890. Please note that it has different opening hours.
After years of reconstruction, the exhibition on Danish Antiquity has re-opened, including prominent national treasures such as the more than 3,000 years old Sun Chariot, the Bronze Age Egtved Girl, and an amazing collection of archaeological finds from the Viking Age, many of which have never been shown at the exhibition before.
Another intriguing must-see is the Huldremose Woman, whose well-preserved remains are estimated to date back to the first decade of the first century AD.
Children's Museum and self-guided tours

One section, dedicated especially to the very young museum visitor, is The Children's Museum. How was the school of your great grandmother? Try a trip on a Viking ship, what was a kitchen like in the Middle Ages? Admire the beautiful colours and feel the smooth silk in the shop from Pakistan.
You can tour the museum in an hour with a self-guided tour. They include The History Tour of Denmark, The Family Tour, and The Tour around the World. In July, August, and September there are guided tours in English.
Restaurant SMÖR is worth a visit
Besides the café and a museum shop, the museum is home to the excellent Restaurant SMÖR. Here you will find Danish classics like smørrebrød (open-faced sandwiches) with a new twist. In the weekends you can try The National Museum's giant cake table with everything you could wish for. The restaurant focuses on local, seasoned ingredients and sustainability. No entrance is required when visiting the café, shop or restaurant.