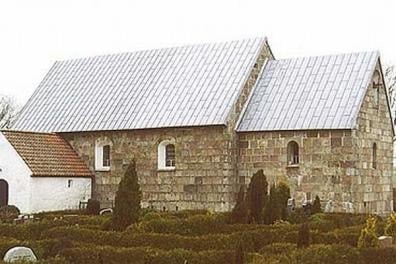 Sædding Church
The church is in Romanesque design, built in the 12th century. In the Middle Ages, the church was consecrated to St. Laurentius. The brickwork is made out of nicely cut ashlar on a plinth.
Close to the women?s door, a stone has been cut like a man's head. On the right side of the head, a couple of runes have been engraved; so far, no one has been able to read them.
In 1996, a new bell frame with a new bell was built. The old bell is still at the east end of the church.
The family of Søren Kierkegaard has so to speak "put its mark" on the church: the farther of Søren Kierkegaard was born at "Østre Kirkegård" and a monument outside the bank tells us where the farm was situated.
At "Møllegaarden" in "Rækker Mølle", you can find the memorial room of the family of Kierkegaard; here a film of the family is shown.
If interested, you can require a leaflet with directions of the parish. Furthermore, a booklet about the church and the Kierkegaards is for sale at the church. The garden at "Rækker Møllegaarden" is also worth visiting.