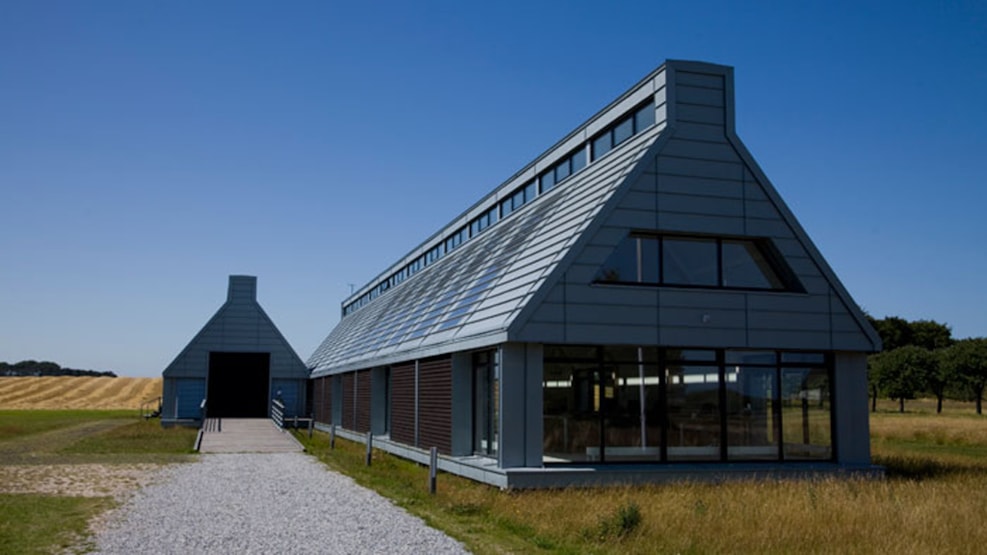 Samsø Energiakademi
Energy Academy
The Energy Academy opened in 2007 and is built by local craftsmen. The house is a demonstration and meeting place for local citizens, guests and visitors with an interest in sustainable energy, community power and sustainable development. The Academy is also an organization working on many different projects related to the continuous development of Samsoe and on Samsoe becoming a fossil free island by 2030. This work requires focus on 'next practice' as well as 'best practice'. The Academy has an ongoing exhibition and arranges workshops, conferences and courses. Each year 5000 scientists, companies, politicians, journalists, school children and energy tourists from all over the world visit Samsoe to see the sustainable energy island and learn from the local experiences.
Local ownership
Windmills are much prettier when you are a co-owner, making money when the wind is blowing. Ownership, leadership and community power are all essential elements of the green transition of Samsoe. Over the years, the Energy Academy has gathered unique knowledge about what it takes to create sustainable change for the benefit of ourselves, the planet and future generations. This hands-on knowledge is in increasing demand both nationally and globally. 90 % of the windmills on Samsoe are owned by the local people. Risk-taking, substantial investments and trust between the citizens and other actors are part of the succes. The Energy Academy cooperates with many actors in Denmark, Europe, Japan, Africa and the US on local transitions and sustainable energy solutions.
The golf course is painted green
Samsoe has one of Denmark's most beautiful golf courses, located on the farmland of Langemark and Besser. The golf course is managed by local citizens and is as one of the first in the world to have both sustainable greens and machinery for maintenance. The green golf course has become an inspiring prototype for other golf courses in Denmark and abroad. The Energy Academy is responsible for educating and qualifying the greenkeepers on Samsoe and in Denmark.New pumps save 30 % electricity
All local communities use pumps to circulate water for cooling, distant and central heating. The muncipality of Samsoe, the company Grundfoss and the Academy collaborate to make Samsoe an example of how consumption of electricity can be reduced by 30% by replacing older pumps with new ones. If Samsoe can achieve this, then everybody else can – and imagine the savings, both in economic terms as well as resource wise. Partnerships such as this are necessary in order to develop greener and more sustainable communities – creating partnerships, including satelite islands and cities, is therefore an important task for the Energy Academy.
Fossil free island by 2030
Samsoe's vision is to be independent of fossil fuels by 2030. Coal, oil and gas will be replaced by sustainable energy in cooperation with PlanEnergi. Seven goals have been formulated to realize the vision, for example, half the local cars must be electric by 2020 and heating in local households must be reduced by 33 %. The local islanders have recently established their own electric cars' union.
See Videos of the work from the Energy Academy.