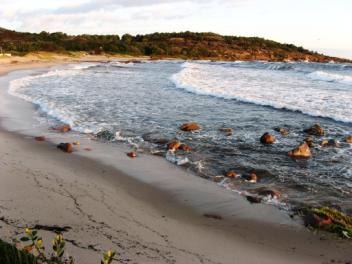 Sandvig Strand Bornholm
Sandvig Beach is situated at the foot of Hammerknude at the northern tip of Bornholm and is the most popular beach in the north of the island.
The beach is always lively in summer. Children play on the beach or jump from the low rocks, which are surrounded by sand. Adults sprawl on the sand, enjoy ball games or seek refuge among the outlying rocks.
Here everything is close at hand, that is to say the town of Sandvig with its hotels, guesthouses, restaurants, shops and bus services; a campsite; tennis courts; kiosk; parking.