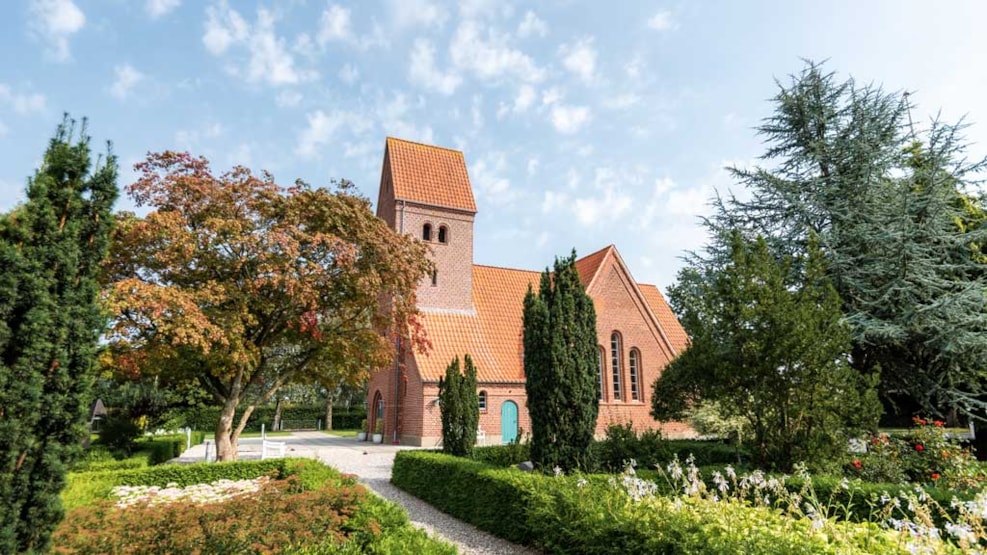 Uhre Kirke (Uhre Church)
From outside, Uhre Church might appear as being a typical village church in red tile bricks. However, if you visit the inside of the church, you are in for a really spectacular experience - as Uhre Church is a very unique church. In 1920, Uhre Church was inaugurated. It was designed by the Danish architects Monrad and Plesner, and has for decades functioned as a typical church and as framework for life's big events.
A Colourful Experience
However, in 1993, the church underwent a very comprehensive and interesting restoration and renewal. In the choir wall, a massive glass mosaic window has been inserted. The glass-mosaic is used in connection with the alter piece and was made by the artist, Helle Scharling-Todd.  Together with the new lighting system made by fragile steel pipes and spotlight, this new alter piece gives the church a very unique and light-mood atmosphere. All of the woodwork on the walls, benches and organ in Uhre Church has been painted with light and festive colours and is a colourful supplement to the glass mosaic window. 
Pay a visit to the church on your own, or get a guided tour of the place.