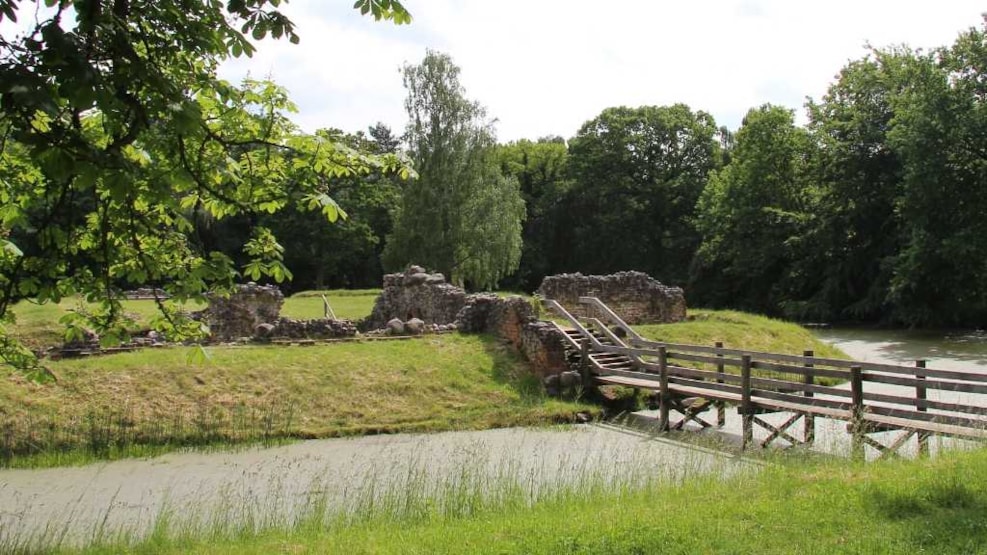 Asserbo Castle Ruin
Inside between the trees in Tisvilde Hegn is Asserbo Castle Ruin. The remaining walls and moat bear witness to a former magnificent castle and are today an idyllic place to visit.
A castle in North Sealand
Once upon a time, there was a castle between the trees in Tisvilde Hegn. When you visit Asserbo Castle Ruin today, the only thing left is the lower walls and the moat. However, it is enough to get the feel of the kings and bishops of bygone times, of power and the Middle Ages.
Walk along the bridge over the moat to the small island and "walk-around" inside the castle.
Combine a visit to Asserbo Castle Ruins with a walk-in Tisvilde Hegn, for example, a walk, hiking or cycling. You can also take the car or bus (see practical information below).
The idyllic and interesting nature area
Asserbo Castle Ruin is part of the National Park Kongernes Nordsjælland, which covers an area of ​​263 km2 from Helsingør and Hillerød to Hundested. It is an area with a rich history of landscape change due to the whims of nature and the struggle of man.
Bishop Absalon's Monastery
In the 12th century, Asserbo Monastery was founded by Bishop Absalon, archbishop and statesman of medieval Denmark. It was run by shifting sheriffs and around 1560 taken over by the king.
When the sand escape came
The area around Tisvilde is one of the places in Denmark that has been hardest hit by sand drift. From the middle of the 16th century, the sand added inland over up to 30 meters in height, so that the landscape almost resembled a desert.
It also went beyond Asserbo Castle ruin. Both the castle and the surrounding villages were abandoned and covered with sand. They subsequently managed to bring the sand escape to life, among other things by planting the trees in Tisvilde Hegn. In 1892, the ruins of Asserbo Castle and the moat were excavated, and in 1972 they were rebuilt.
Practical information about Asserbo Castle ruins, parking etc.
Car: From Frederiksværkvej you drive along Bisp Absalons Vej. Here there is a parking lot close to Asserbo Castle ruins.
Bus: Take bus 320R between Helsinge and Frederikssund and get off at the stop Chr. E. Bartholdys Allé. From here there are approx. ten minutes walk to Asserbo Castle ruin. See departure times and stops on the Itinerary.
Cycling: Follow the mountain bike route in Tisvilde Hegn or one of the many other cycling routes in North Sealand.