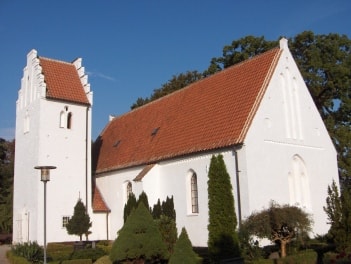 Baarse Church
Baarse village church is from the Middle Ages. It is an old gothical long house building built in large bricks.
The church has during the time been through several rebuildings. The church stands whitewashed and brick-hung with a black tarred foot.
The altarpiece is implemented painting of Th. Wegener, expenditure-lies 1862-63.
The baptismal font is from granite in Roman style of approximately 1200. The christening can is a Dutch peace of work. The baptizing can is made of tin from the 1900 century and carries the stamp Hans Høy. The pulpit is high Renaissance is cut by Bertel Snedker and is put up 1604.