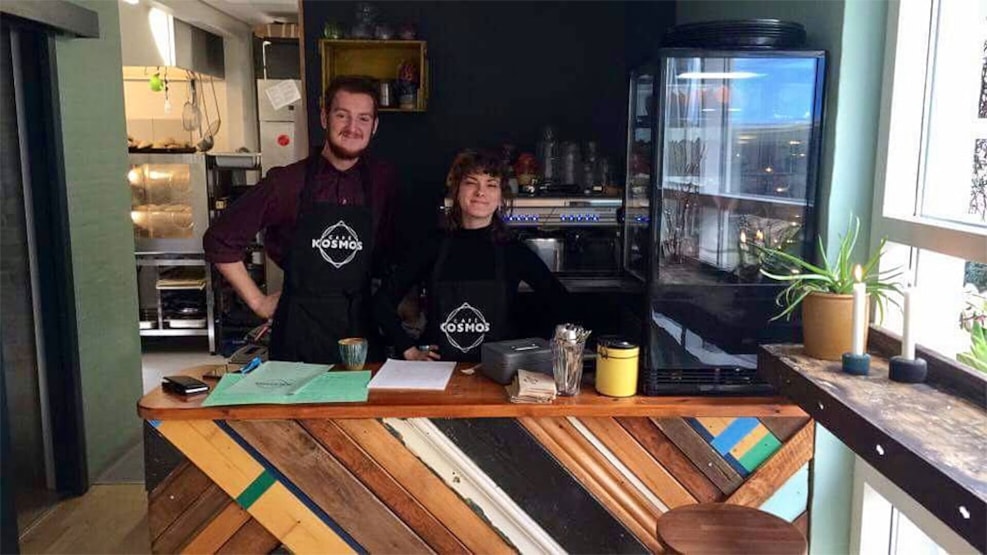 Green Experience
Café Kosmos Vegan & Organic
Plant-based and organic food
Café Kosmos is a 100% vegan and organic café located in the centre of Odense. They prepare all dishes from scratch, primarily from local and always from organic vegetables. Every morning the team comes in and bakes burger buns and cakes, makes dressings, and whatever else they need during the day, so everything is as fresh and homemade as possible. On the menu, you'll find burgers, hot dishes, salads and some delicious home baking for coffee, organic wine and locally produced beer, juices, soft drinks and a wide variety of hot beverages. You will find Café Kosmos in Lottrup's Farm, close to the pedestrian street at the corner of Kongensgade and Vestergade. 
The café exudes sustainability and reuse with its thoughtful décor of upcycled vintage furniture and homemade old concrete cast-iron tables. On the tables are flowers in old jam jars, and the glasses you drink from have clearly served another purpose. If you buy a coffee-to-go, you get it in a mug of biodegradable plastic made from corn and sugar.
Sustainability is a priority, even when it comes to food. All ingredients are organic, vegan and grown as locally as possible - all to minimise the impact on the planet and animals and to contribute to a brighter future. On Café Kosmos' website, you can read more about their suppliers, who are all from Funen and are committed to having as small a footprint as possible.
The team behind Café Kosmos tested the concept for several years before opening the café, including folk cuisine in the youth centre and vegan street food at various festivals and events. Their dream was to create a financially sustainable business without compromising on their values. As they say - CAFÉ KOSMOS IS A DREAM OF CREATING THE BEST PLACE WE CAN IMAGINE. AND WE HAVE!