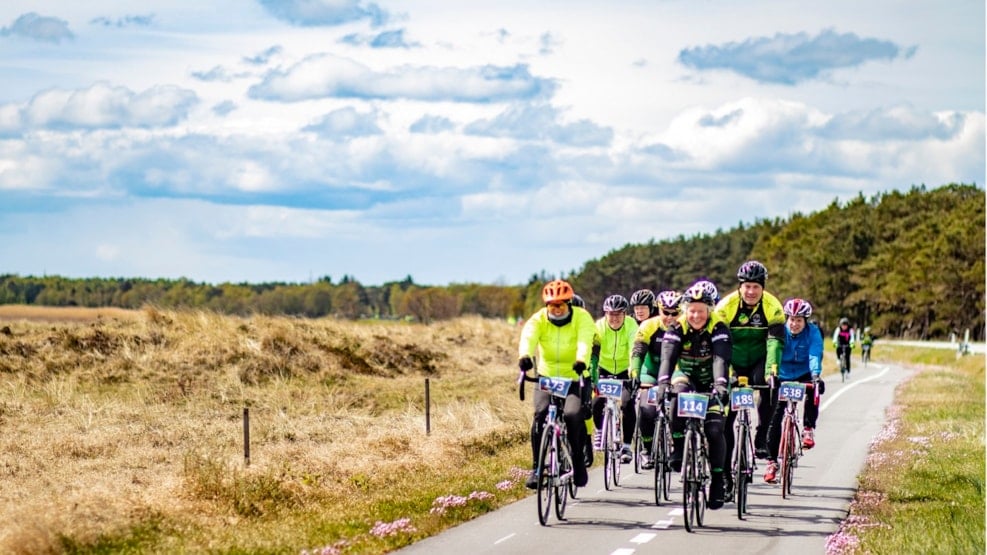 A cycling tour on the island of Læsø
With a total of 118 km2, small roads, many cycle paths and its beautiful nature without hills, Læsø is a perfectly obvious starting point for a cycle trip. This route is 54 km, but can be shared or changed. After a lovely 90-minute sailing trip with the Læsø ferry from Frederikshavn, you arrive in the harbor in Vesterø dry. Before the harbor was built in 1872, you had to sail as close to the beach as possible and then wade the last distance to land.
Vesterø Harbor – Rønnerne
Along Strandvejen, head towards Søndre Kirke with the unique frescoes from approx. 1510, depicting the Holy Three Kings and further towards Rønnerne and Læsø Saltsyderi. It is a reconstruction of saltworks, which for five centuries provided the main income for the Læsø residents. In the working workshop you can hear, see and smell the mysteries of salt production as in the Middle Ages. Rønnerne is a mudflat with a number of islands that have a unique birdlife - so take binoculars with.
Rønnnerne – Byrum - Danzigmann
From Byrum continue to Museumsgården, one of the old seaweed farms on Læsø, which today is preserved as an open-air museum. Then cycle on in the direction of Østerby Kirke, where you can enjoy the view over Bovet - a large bay - that forms Læsø's south-east coast. A narrow strip of salt marsh turns into mudflats that stretch far out to sea. Large parts of Bovet can be dry in the summer. On clear days, rocks and islets are lifted in mirages and appear to float above the sea. The rocks were dropped by melting icebergs during the last ice age. The trip continues towards Danzigmann – the name is a relic from the days of sailing ships. A ship from Danzig ran aground there in 1741 and the inhabitants of Læsø referred to it as the "Danziger Man". On the good bathing beach you can be lucky to find amber. With binoculars you can often see seals on the rocks that form Sælhunderevet to the west from the high dunes.
Danzigmann – Østerby Harbour
Then you drive back towards Østerby and on to Østerby Havn, where Læsø Fiskeindustri is located. Here, what is landed of fish and spiny lobsters on the island is bought up. The lobsters are rinsed, sorted and packed and sold mainly to Southern Europe.
The rescue station is the first of its kind to be established on Læsø. Built in 1871 as a boat and rocket station.
Østerby Harbor – Vesterø Harbor
On the way back to Vesterø Harbour, you pass Læsø Seaside Golf Course and you drive through the relatively young forest area Læsø Klitplantage. In the 1930s, the state began to plant areas with Scots pine and Sitka spruce. Before then, Læsø had been treeless for several hundred years, as the wood was used for Læsø's salt production. On Storedalsvej, is Skovhytten, where you can read about the wonderful world of bees on boards. On days with a westerly wind, the trees provide good shelter for cyclists, and you might be lucky enough to see a deer. From Plantagevej you can make a detour to Holtemmen, which is a wetland with many exciting and rare plants. Back in Vesterø Harbour, you can relax with an ice cream before the ferry sails back to the mainland.