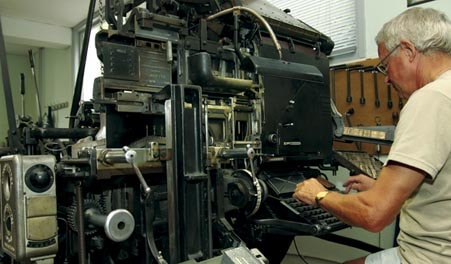 Det Gamle Trykkeri
Nakskov had, in the beginning of the last century, several local newspapers of different political convictions. In this town there was three newspapers with their own printing office and several printing houses. In the fifties the number printed and the economy became a problem for the smaller provincial papers. In 1960 the conservative paper Vestlollands Newspaper closed. In 1971 Lollands Tidende (with a left-orientated outlook) had to turn the key. The newspaper NY DAG owned by LO (the Federation of Danish Trade Unions) had to exchange the lead with a photocomposition and offset in 1969. Despite staff reduction and LO funding NY DAG had to give up in 1994.

The museum was established the first of May in 1997 by typographers from NY DAG and pensioners. It contains a typesetting machine, a functioning Lino typesetting machine, an Eickhoff printing-machine, a Heidelberg wingmachine lead composing room, a camera and a darkroom.

The result of all this is a working museum where you can experience previous ways of producing printed papers.

Also open if you make an appointment. Call Nakskov Tourist bureau for more information (Tel. + 45 54 92 21 72).