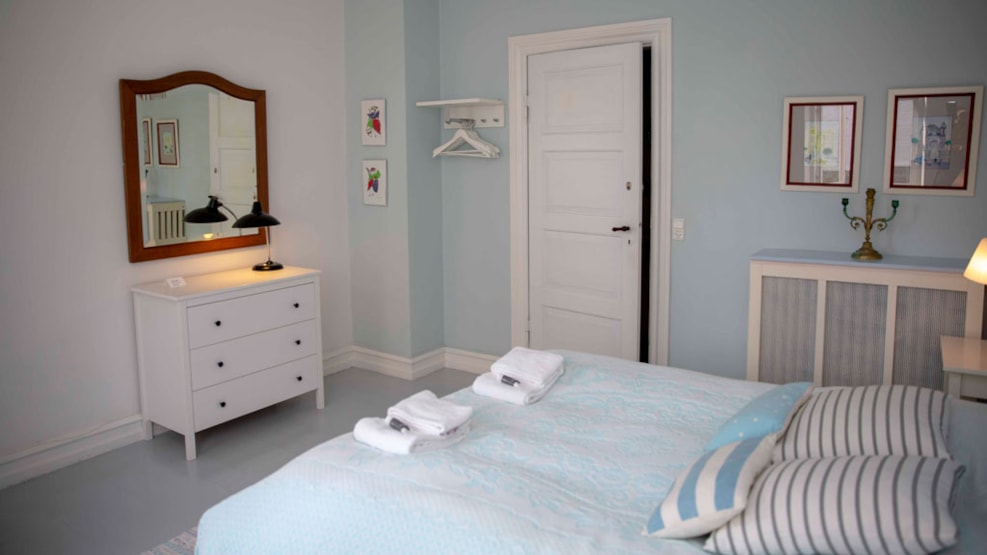 Det lille Sommerhotel
Det lille Sommerhotel (The small Summer Hotel) is located in Ballen 100 meters from the harbour and beaches. 9 individually decorated rooms with shower and toilet (possibility of extra bed)
Individually served breakfast with homemade bread is included in the room rate. The hotel also gladly offer package prices on mini vacations and weekend stays with half or full board. Dining at the hotel's new restaurant SAK, located 30 meters from the hotel. See also the exhibition of Helle Hesseldals cartoon pictures or rent your bike here.
Hotel:
Det lille Sommerhotel has 22 beds distributed over 9 rooms. 7 rooms with bath and toilet, 2 rooms with bath and toilet in the corridor just opposite the room.
In the garden you'll find a lovely orangery with TV, minibar and free coffee and tea and with plenty of space for games and reading etc. In addition to the hotel there is a newly renovated townhouse with room for 6 people.
Det lille Sommerhotel is one of Denmark's loveliest seaside hotels – as shown on Danish TV2.
Like the best beach hotels, the hotel is bright and friendly. Breakfast is table-served in the hotel's restaurant or in the lovely garden in the morning sun. Breakfast is served with home-made bread, spreads, fruit and yoghurt, coffee / tea and juice.
Det lille Sommerhotel is located in Ballen, a small village on Samsø with a lovely harbour for yachts and beautiful sandy beaches on both sides of the harbour. You will also experience a lively summer atmosphere with cafes, restaurants and shops – casual without being hectic. In Ballen you can rent bikes, and Samsø's beautiful scenery and many small villages are connected by good, small roads without much traffic.
Bicycle rental:
Rent your bikes at Det lille Sommerhotel.
Pets:
Pets are not allowed