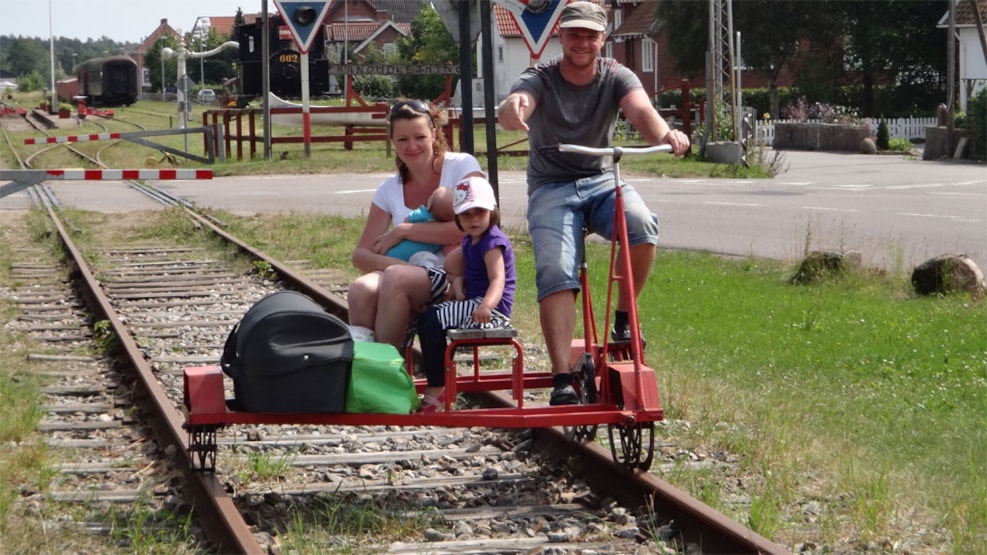 Djursland for Fuld Damp
You can find Djursland for Fuld Damp in the old station in the small town of Allingåbro on Djursland. It is an experience and activity offer reminiscent of the past, full of coziness and nostalgia. Visit a workshop museum, book rail bikes, rent a canoe, sleep in a sleeper car or take a ride in an old vintage bus.
Oldtimer Workshop Museum
At the Oldtimer Workshop Museum, you can see and experience what a workshop looked like and how cars were repaired from the 1930s to the 1960s.
Rail bikes
The old railway tracks that used to run from Randers to Allingåbro are now one of the most fun activities in Djursland, where you can take a ride on the "rye-bread-driven" rail bikes with family and friends.
Rent a canoe
There are many opportunities to go canoeing at Randers Fjord, where you can also sail on the small streams, which is a good alternative for those looking for a peaceful boat trip. For example, take the trip between Allingåbro and the Gammel Estrup Museum round trip, which is 10 km.
Sleep in a sleeper cabin
At the station in Allingåbro, you can also spend the night in nostalgic sleeper cabin that used to run between Copenhagen and Aalborg. Be prepared for a primitive stay, where the family gets its own compartment with 6 berths. However, the recommendation is a maximum of 4 people per compartment due to the small space.
Vintage bus
Experience a ride on a nostalgic red vintage bus - a Volvo from 1961 with room for 35 people. The bus is rented with a driver, and if there are only a few of you, you can contact Djursland for Fuld Damp to find out when the next guided tour is taking place.
At the railway station you can buy nostalgic toys and enjoy a cup of coffee in the cozy courtyard.
See what others are sharing on Instagram