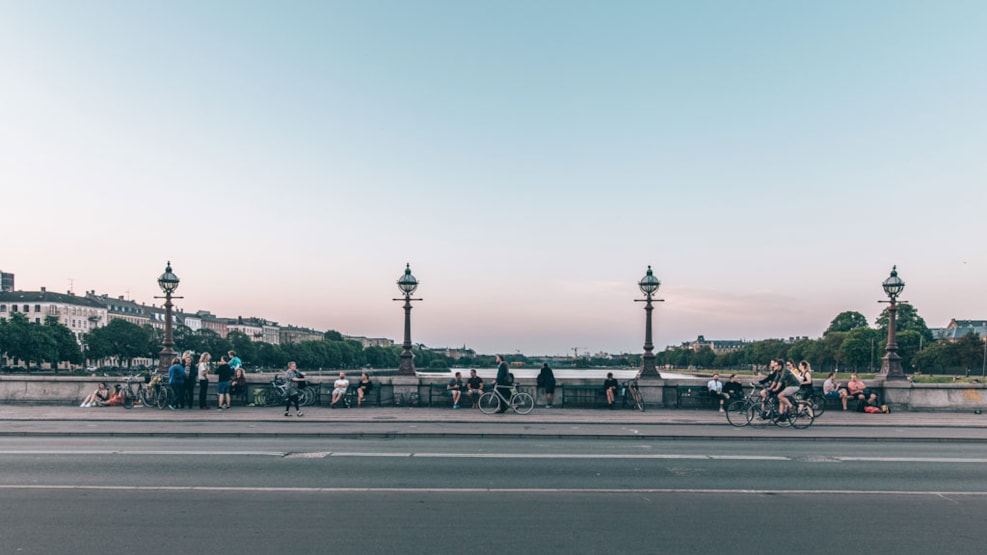 Dronning Louises Bro
Dronning Louise's Bro (Queen Louise's Bridge) connects inner Copenhagen and Nørrebro and is one of the busiest bike highways in Copenhagen. However, the bridge has also become a very popular hangout spot for the locals.
No less than the world's busiest bicycle street, Dronning Louise's Bro (Queen Louise's Bridge) connects the city centre with the buzzing Nørrebro area, and is also a popular hangout spot, especially on sunny days.

Queen Louise's Bridges was built in 1887 and went through a bit of a transformation when the road was narrowed in favour of wider sidewalks and bike paths. It resulted in significantly reduced car traffic and increased bicycle traffic.
An extra bonus
The transformation did not only affect cars and bikes: the wider sidewalks also turned the sunny side of Queen Louise's Bridge into a hip and popular hangout for many Copenhageners.

There was so much demand for people to gather, hang out and soak up the sun that the bridge ended up getting more benches than originally planned.
A popular gathering point
The benches are not the only places that are occupied by locals. The railing and the sidewalk are also popular hangouts when the sun hits the lakes. Here you can meet up with friends, listen to music, talk or enjoy a cold beer.