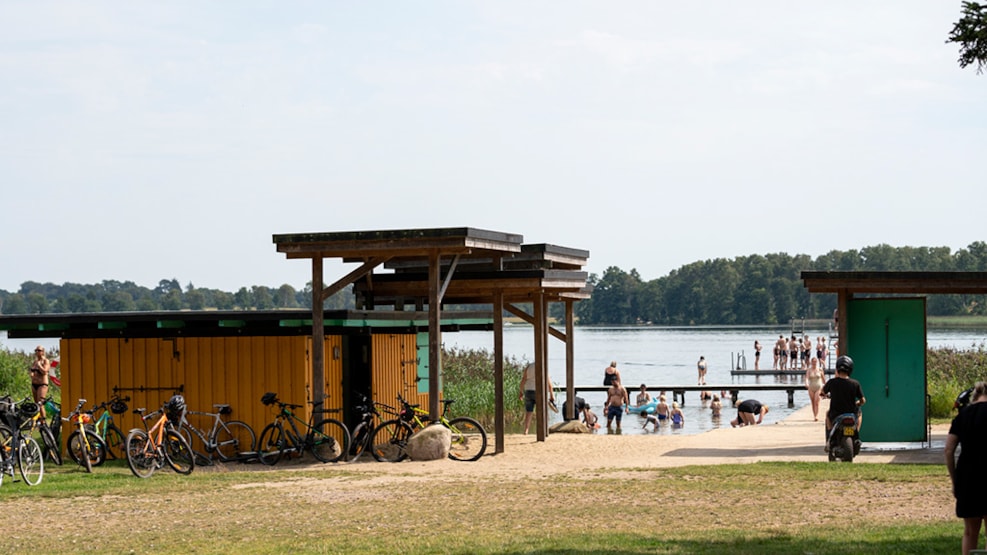 Dyrehavens Lake Bath in Skanderborg
Dyrehavens Lake Bath at the idyllic Skanderborg Lake is a family-friendly bathing spot and invites for refreshing swims all year round. The tranquil and picturesque area around the lake creates a peaceful and inviting atmosphere, offering the chance to enjoy a cooling break from the heat during the warmer months.
Jump into the water - all year round
During the summer, Søbadet is a popular spot for both locals and tourists who enjoy the water, the sun, and a relaxing day by the lake.
Even in the colder months, Dyrehavens Søbad offers a delightful and refreshing experience. Embracing the Nordic tradition, brave swimmers take a dip in the cold waters, which is said to have several health benefits and a invigorating effect on both body and mind - if you are a winter bather, you will love the lake in Skanderborg.
The nature around the lake
If you prefer to stay dry, Søbadet provides an ideal place for peaceful walks along the lake's shore or a tranquil picnic surrounded by the Dyrehaven forest. With its picturesque surroundings and the opportunity to connect with nature, Dyrehavens Søbad offers a year-round experience for those seeking relaxation and peace by the water's edge.
Host venue for Smukfest
Dyrehavens Søbad is not only a popular spot for swimmers and nature lovers, but it also serves as the annual host venue for the festival Smukfest. Each year, the area transforms into Denmark's Most Beautiful Festival, where thousands of music and festival enthusiasts gather to enjoy an unforgettable experience with fantastic concerts, a lively atmosphere, and festive activities.
From the refreshing waters of Søbadet during the day to the energetic musical performances in the evening, Dyrehavens Søbad and Smukfest form an essential combination of nature, celebration, and community.
Blue Flag 2023
Dyrehavens Søbad has been awarded the Blue Flag 2023. The Søbadet consists of wooden decks with stairs and diving platforms into the lake, including an inner pool and a grandstand.
In the area, you will find "Kulturløberen" (The Culture Runner), an activity area that connects the Cultural House and Dyrehavens Søbad.
Bring the kids along and enjoy some fun hours at the nearby playground with seesaws and a large grass area.
See what others are sharing on Instagram