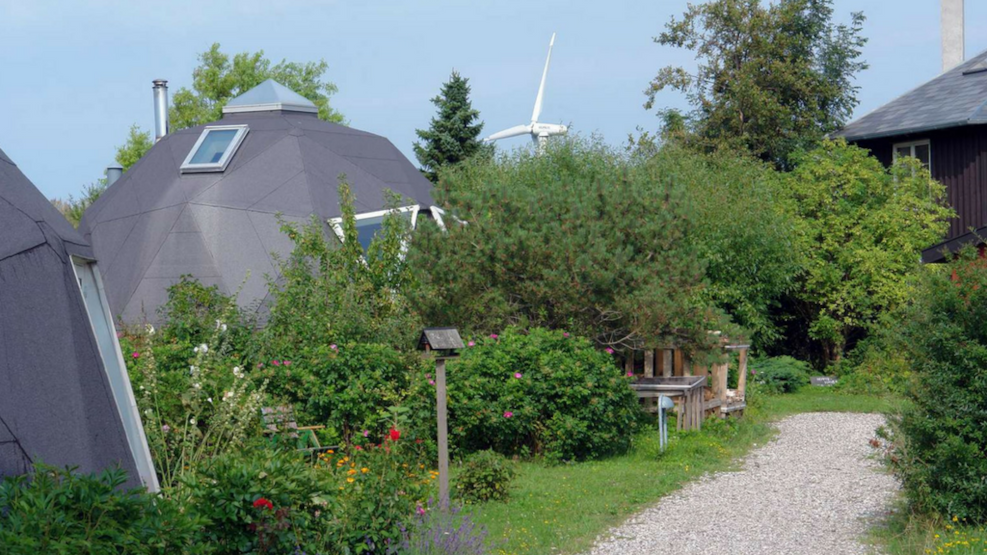 Ecological Village Dyssekilde
In North Sealand, between Frederiksværk and Hundested, you will find one of Denmark's oldest ecological villages, Økosamfundet Dyssekilde.
The Dyssekilde ecological community (Økosamfundet Dyssekilde, also called ØD) is a village built exclusively of ecological materials and which produces its own energy.  
A variety of buildings with organic shops and a range of delicious organic goods. There are guided tours in the summertime.
In the beautiful nature, close to the ocean, lies the organic village Dyssekilde. Here, just under 200 residents live in terraced houses, self-built houses and experimental houses built from recycled materials. Everyone is welcome to visit the organic village and see for themselves how life can be lived ecologically and sustainably. In addition to the special houses, you can also visit more artists and the café Torup Spisehus. 
Visit the Ecovillage
Every year thousands of Danish and foreign visitors visit the Dyssekilde Ecovillage or just ØD as the village is called in daily talk. You also have the chance to go on a guided tour or discover the village yourself - just stay on the gravel roads. If you go around on your own, you may want to download a brochure where it is noted where the public roads are located.
Guided Tours
From March to October, there are guided tours every other Saturday for odd weeks at 11.15. Departure from the info wall at the parking lot. The tours cost 50 DKK and last approx. one and a half-hour time. Along the way, you will see the whole village and get knowledge of how the houses were built and heated, how the village started and developed into the "Ecological village".

Groups
Groups of more than 10 people, please contact us directly at mail dyssekilderundvisning@gmail.com
You can also book a private tour at the time that suits you best. Read more at www.dyssekilde.dk
Besides the guided tours, ØD offers many exciting events each year. Including a movement festival and an organic music festival.
Store
ØD also offers the opportunity to shop in the village's shop, where there is also the possibility to eat at Torup Spisehus or visit a house.