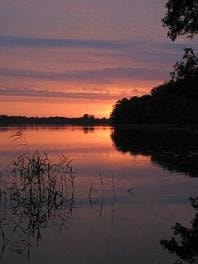 Farum Sø
Farum Sø (Farum Lake) is located in Furesø Municipality in the valley of a river known as Mølleåen, and is the river system's third largest lake after Furesø and Bagsværd Sø. The lake contains two islands, Svaneholm and Klavs Nars Holm. The latter is privately owned and inhabited. The lake is also a bird reservation. It's most important tributary is Hestetangså at the western end of the lake. It flows out at the eastern end via Fiskebæk, which runs into Furesø 500m later.
The legend of Klavs Nar
There are many legends and stories associated with Farum Sø. The most well-known is the legend of Klavs Nar, who the largest island in the lake, Klavs Nars Holm, is named after. According to the most popular version of the legend, Klavs Nar was court jester for Valdemar IV Atterdag and was given the island by the king as long as he built a house there and lived on the island. The jester was not satisfied and offered the king eel soup on the island in revenge. When the meal was to be served, the jester pointed at the lake and said there was the soup with the eels in it. The king answered "That was a poor dinner", to which the jester replied "A meal that suits the island".    
Much later on, the Danish king, Frederik VII, often visited major-general Fens­mark at the Farumgård manor house. On the way home from one of these visits, a costly silver dinner service is said to have slipped overboard into the lake.
Farum Sø is part of the nature reserve between Farum and Slangerup.
What there is to do
Farum Sø Sti (Farum Sø Path), 10km-long route
Farum Sø Sti is a 10km-long walking and running route. Every kilometre on the route, there are stones featuring reliefs by the artist Olaf Johannisson. The reliefs are a guide to the walk and explain the types of animals along the route. The route starts at Skovstien at the end of Farumgårds Alle, just beside Farum Station. Just pick up a leaflet.
Boat hire at Farum Sø
You can hire a 3-person and 5-person rowing boat at Farum Sø. The boat hire is located at the eastern end of the lake, near Fiskebækvej. Just follow the path Farum Sø Sti. The boat hire is open on certain days during the summer - find out the opening times, prices and further information via this link.
Take a swim
You can swim in Farum Sø, although the swimming is your own responsibility and there are no lifeguards. If you wish to swim in a lake with lifeguards, then consider Furesøbad at Furesø, which is close to Farum Sø. Find out more here.