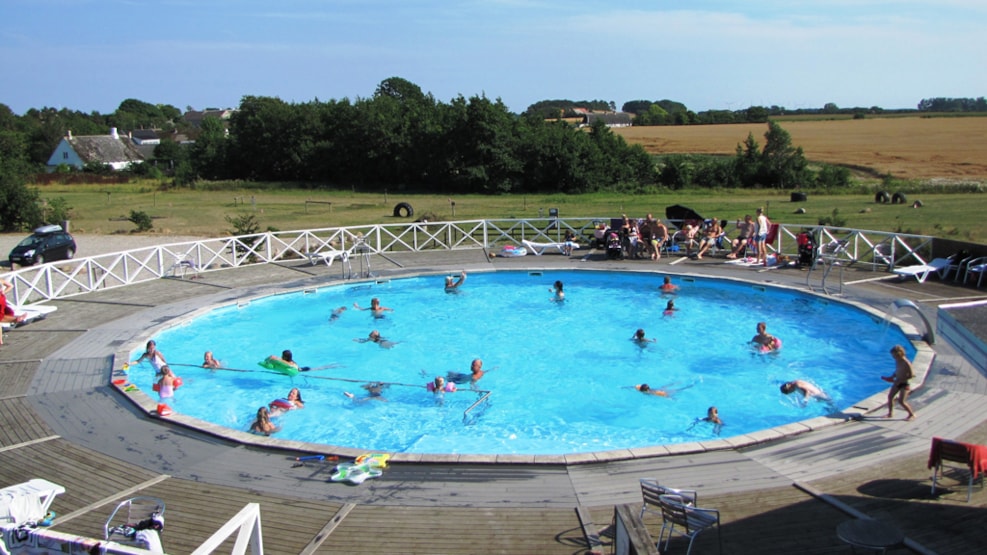 Feriecenter Samsø
Stay, eat and play at Camping og Feriecenter Samsø.

All resident guests have FREE access to many of the activities, including swimming pool, BMX bikes, bouncy castles, beach volleyball, playground and much more!
Other activities such as football golf, mini golf, archery, etc. can be purchased. In the games room, at the bowling alley, there foosball, pool table and indoor minigolf.
Are you a group, company, school camps or the like Camping og Feriecenter Samsø is the ideal place for family gatherings, bus companies, courses, team building, meetings and more.
Rooms (22 pcs. + 19 pcs. 400 m. away):
Stay in rooms accommodating 1-6 people. 22 rooms have private bathroom, TV, small terrace, good access for wheelchair users and free wireless internet.
Bring your own linen and towel or rent it from us.
Buffet breakfast can be purchased.
Camping og Feriecenter Samsø also offers rooms at the hotel base incl. soaps, linen, towels, breakfast buffet etc.
All resident guests are welcome to use the large living room and the two shared kitchens with all crockery, pots, stoves, dishwasher etc. The living room is furnished with tables and chairs and a sofa corner with TV.
Read more about Højskoleværelser by Camping and Feriecenter.
Camping***:
Camp overlooking the fields and the sea. The site is ideally equipped for motorhomes, caravans, tents and camp plains. All campers are welcome to use the camp kitchen, where there is electricity and gas stove, sink, refrigerator, freezer and oven.
Shelter (5 pcs. up to 5 people in each):
Spend a night in the open and stay in a shelter and socialize with marshmallows by the campfire.
Prices
Rooms – Low Season / High Season
Single room DKK 440,- / 640,-
Double room DKK 530, – / 730, –
3-persons room DKK 610,- / 810,-
4-person room DKK 680, – / 880, –
5-persons room DKK 740,- / 940,-
6 Persons room DKK 790, – / 995, –
Rooms dob. / Twin DKK 795, – / 995, –
Extra person DKK 100, – / 150, –
Dog in room (one time fee) DKK 200,- / 200,-
Camping per. night:
Adult DKK 94, –
Child 3-12 years DKK 49, –
Children under 3 years DKK 0,-
Rental of space on campsite incl. free electricity DKK 49, –
Dog on campsite DKK 6, – pr. night
No additional charges!