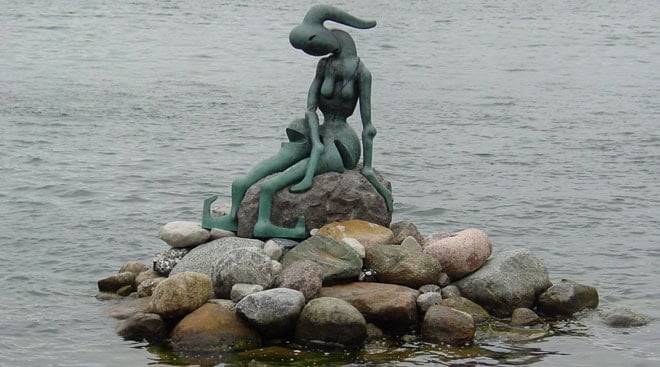 The Genetically Modified Little Mermaid
On a new square by one of the old warehouses in the Copenhagen Harbour, 'Dahlerups Pakhus', the Danish professor Bjørn Nørgaard has created a sculpture group called 'The Genetically Modified Paradise'.

The square itself is formed in granit stone with a 400-square-meter fountain. In the fountain Bjørn Nørgaard's sculpture gives his provocative and humouristic view of the postmodern society.

In the centre is a 40 ton triumphal arc with a nine meter tall figure of a genetically modified Madonna. Around her are six other figures: Adam, Christ, Maria Magdalena, Eve, The Tripartite Capital and the Pregnant Man.

The last sculpture has moved into the water bassin on its own small island. This is the abovementioned Genetically Modified Little Mermaid and her location is only a few hundred meters from that of her 'older sister' the well-known Copenhagen landmark of The Little Mermaid.