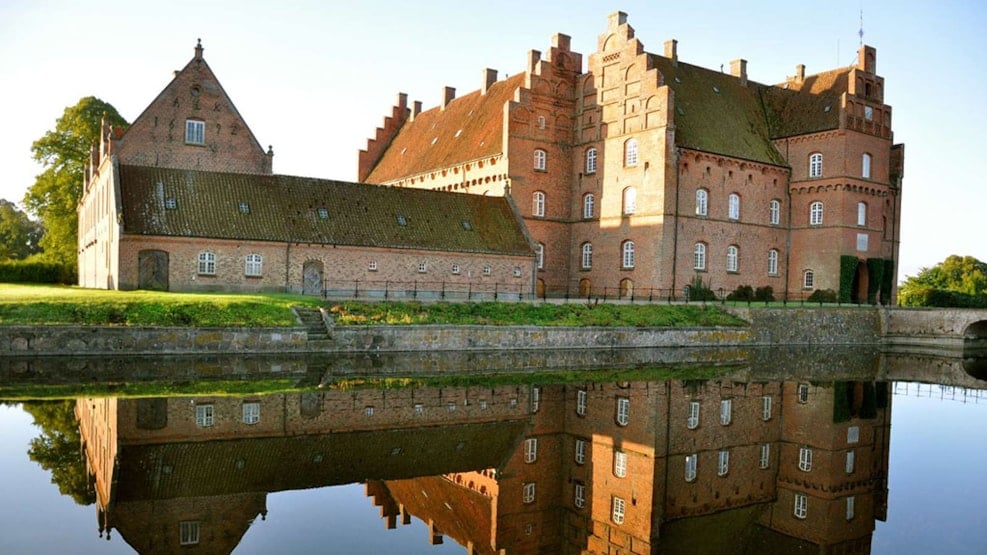 Gisselfeld Abbey
Just minutes from today's roaring motorways – set in one of Zealand's most beautiful landscapes – is the abbey Gisselfeld Kloster, one of Denmark's oldest and best-preserved Renaissance castles.
The name can be traced back to the year 1370, but the red castle that we see today was built in the period between 1547 and 1575, by Peder Oxe, Denmark's mighty steward of the realm.
In 1701 Christian Gyldenløve decided that Gisselfeld should become an abbey, and that unmarried ladies of rank and an abbess should be attached to it. However, these plans were never realised, but the name Gisselfeld Kloster (Gisselfeld Abbey) remained unchanged.
Due to the unstable times around Grevens Fejde (the Count's Feud) in 1534, Gisselfeld was built as a fortress – with a curtain wall, drawbridges, embrasures and a moat. Gisselfeld is one of Denmark's largest estates, with a total area of 3,850 ha., of which about two-thirds are forested. Nearly all of Vester Egede City and nine large farms belong to the estate, which owns a total of 126 properties.
The landscaping has been around the castle for hundreds of years. Among other people, these beautiful surroundings inspired Hans Christian Andersen to write the world-famous fairy tale 'The Ugly Duckling' during one of his stays at Gisselfeld. The current park, approximately 40 hectares, was built in the late 19th century by the famous English landscape architect H. E. Milner.
Read more at www.gisselfeld-kloster.dk