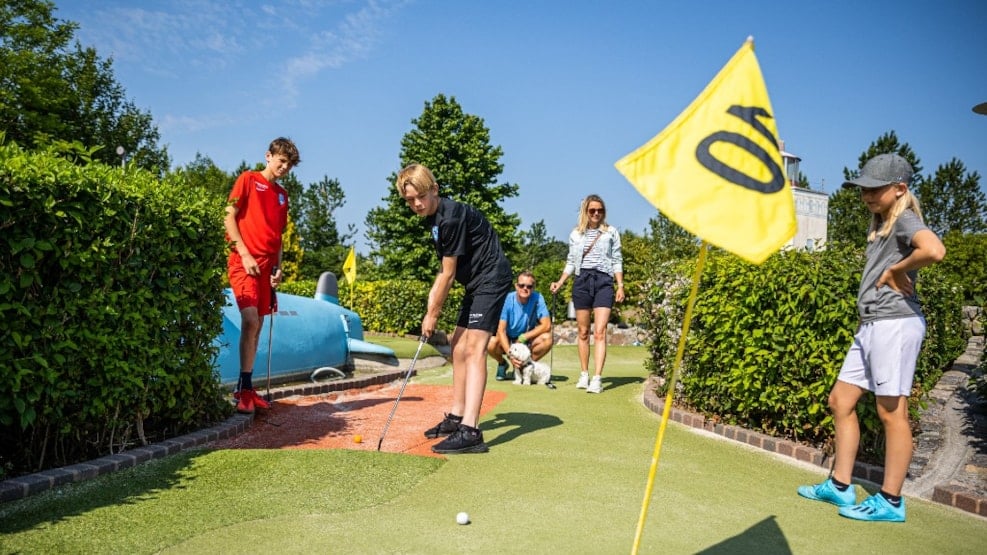 Golf & Fun Park
A wonderland of fun activities where the whole family can come out to play together and there is something for everyone in Denmark's largest golf park. 
Golf in every form
At the Golf & Fun Park, you can enjoy any kind of golf: 9 and 18 hole adventure mini golf on an amazing course with lakes and streams, football golf, frisbee golf, handball golf, Japanese park golf or even, last but not least, the covered driving range, where you can hit golf balls at 100 kilometres an hour.
At 2 kilometres long, the scenic course used for football,-frisbee- and handball golf is the longest in Denmark.
Bumperball, baseball and Segways
Ever tried playing football while wearing an inflatable Bumperball? It means you can play football, bump into your friends and roll around the pitch. It's thumping good fun! Take a turn in the batting cage and slam balls at up to 105 km an hour. You can also play football pool or take a joy ride on a Segway.
And for younger children…
For younger children, the Golf & Fun Park has a great 'western town' with gold-digging and a teepee, an amazing playground, trampolines, bumper-boats, electric cars and an activity house. When you've had your fill of fun, it's time for a little refreshment in the shade of the covered terrace or garden, where you can buy ice cream, food and something to drink. Alternatively, you can enjoy your own food and make use of the site's barbecues.
The Golf & Fun Park is always the place for a fun-filled day out.