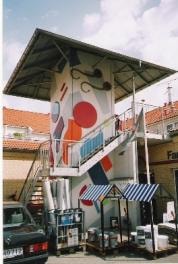 Hanne Salamon's Tower
Modern minor tower with staircase located in the middle of small-town Lynge's shopping area. The decorations are done by the Danish artist Mrs. Hanne Salamon. It was inaugaurated by the local Lord Mayor of Allerød, Mrs. Eva Nejstgaard, December 1st, 2000.

The decorations are en elegi for the impressive archaeological finding of bronze age music instruments, the Lur's in a nearby local swamp.