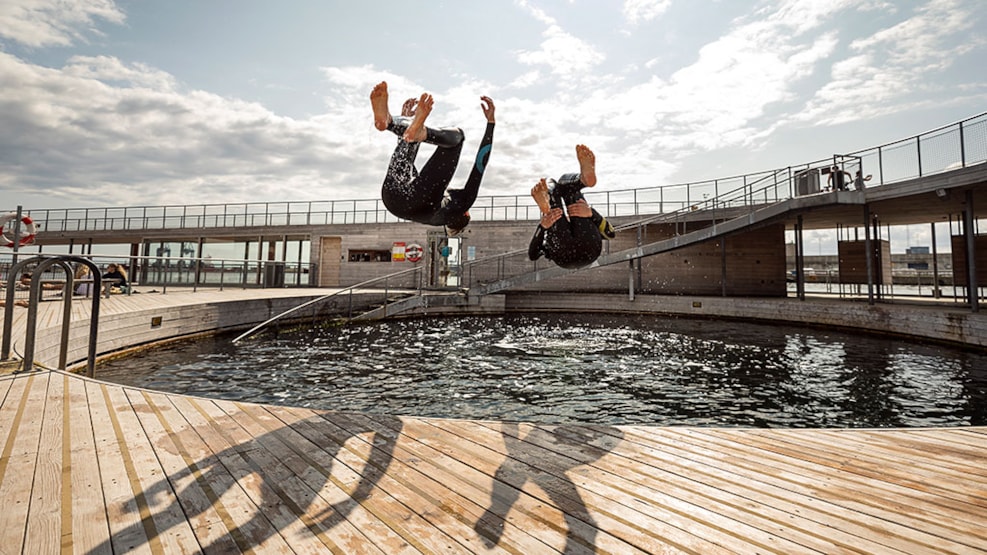 The Harbour Bath
The Harbor Bath is designed by the famous Danish architect Bjarke Ingels Group BIG. The triangular floating complex comprises a rectangular 50-metre-long swimming pool, a circular diving pool, square children's pools and two saunas.
Go for a refreshing dip in the Harbor Bath located on Aarhus Ø. In the winter months you have free access to the circular diving pool, locker rooms and restrooms on Saturdays and Sundays from 08.00 a.m. – 12.00 p.m. There are lifeguards present in the opening hours.
Take a walk on the elevated plank walkway, which doubles as a viewing platform overlooking the pools and water beyond.
Beach volley and bars
The Harbor Bath is a spot full of activities, not just for swimmers. Along the sea front, beach volley courts, bars and cafés will emerge over time. In the long run, future plans also involve a theatre, hotel, restaurants, shops and bathing huts.
Designed by one of Denmark's greatest architects
The Harbor Bath in Aarhus is designed by Bjarke Ingels. He is the architectural master-mind behind other buildings on Aarhus Ø, Aarhus' urbane harbor area, for instance the spectacular "AARhus" with its triangular shapes.
Booming architecture at Aarhus Ø
The Harbor Bath is an extension of Aarhus' booming architecture scene, which includes the DOKK1 public library that also sits on the city's coastline, Salling ROOFTOP and the new harbor front.
Facts about the Harbor Bath
In July and August the Harbor Bath is open every day from 10.00 a.m. – 06.00 p.m.
There are lifeguards present in the opening hours. 
The promenade deck is open 24 hours a day throughout the year.
There are separate changing facilities for ladies and gentlemen.
There are lockers to your belongings, just remember to bring your own lock.
The lockers must be emptied every day, so do not let your property stay overnight till the next day. If a lock hangs on a locker when the Harbor Bath closes, the lock will be cut over.
There are four toilets as well as a handicap toilet, outdoor showers and faucets for drinking water.