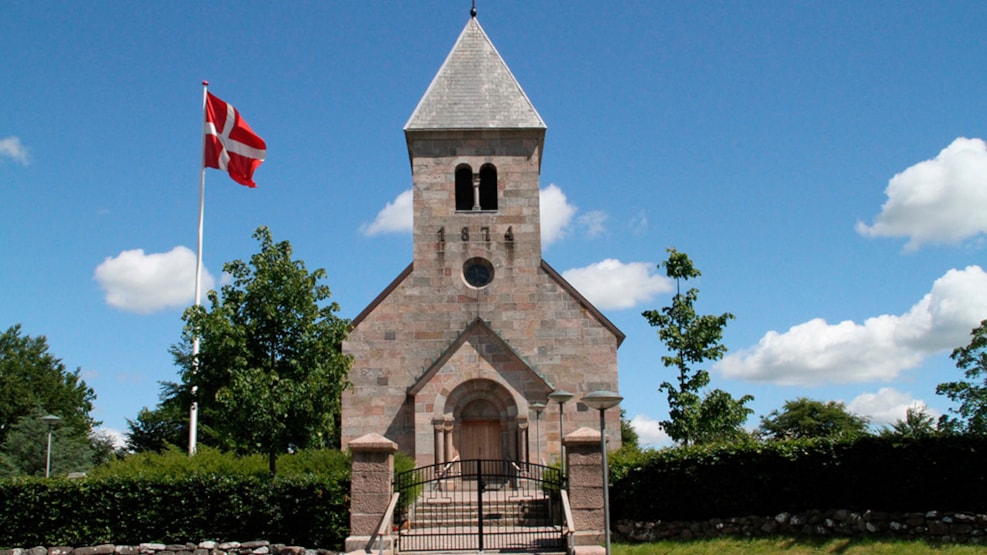 Hørup Church, Kjellerup
Hørup Church
Hørup church dates back to around 1200. Built as a typical Romanesque ashlar church, it consists of a nave and a chancel with a ladies' entrance in the north side and a men's entrance in the south.
In the late Gothic period around the 15th century, a tower was built at the west end of the church. The lower section of the tower was built of ashlar from the original west gable, while the rest of the tower consisted of brick.
When the tower was built, the north portal, which was the ladies' entrance, was bricked up and the men's entrance in the south portal was moved to the west end of the tower as a shared entrance. And this was how the exterior of the church remained until 30 October 1872 when, during a violent storm, a ball of lightning inflicted such extensive damage on the church that it had to be demolished and built anew. Fortunately, most of the furniture inside the church escaped damage and could be reinstated in the newly-built church.
Before its demolition, the architect F. Uldall made drawings of the old church so that the new church could be built to the same design as the original church, the only difference being that the side walls of the nave were led through to the tower's west end to make room for the staircase to the tower and an organ loft on the one side and a baptistery room on the other side of the porch.
In 1974, the centenary of the re-building of the church, the interior of the church underwent major renovation and a new organ was consecrated.
Open: Summer 8 AM – 3 PM. Winter: By appointment
See what others are sharing on Instagram