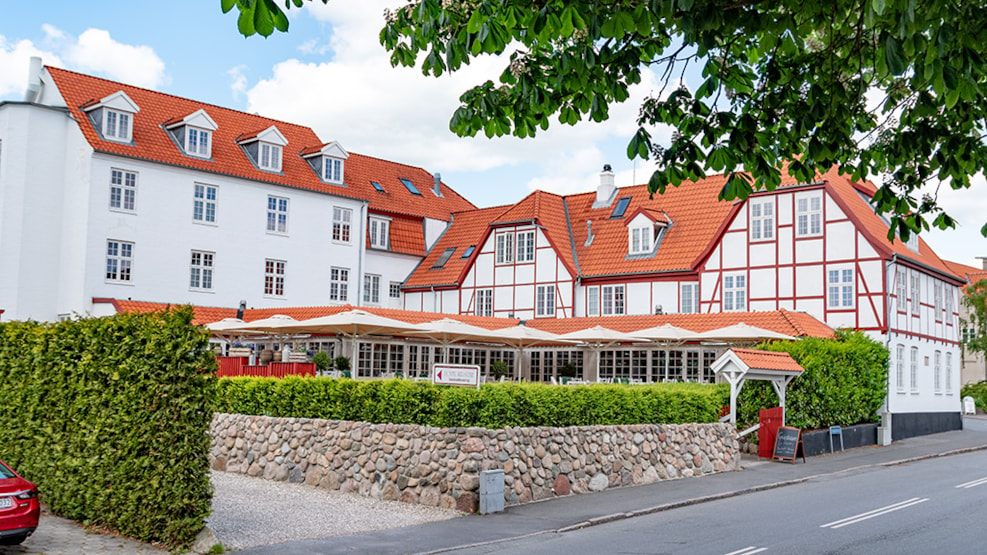 Hotel Kirstine
Hotel centrally located in Næstved
You will find Hotel Kirstine in the middle of Næstved therefore it is easy to find both cafes and shopping possibilities. Just behind the hotel, the stream Susåen winds its way and extends further through the forest of Herlufsholmskoven, only a 5 minutes' walk from Hotel Kirstine. 10 km from the hotel you will find Karrebæksminde. Karrebæksminde offers both delicious local produce and an amazing beach.

Restaurant
Our restaurant is open for both lunch and dinner Monday – Saturday. Here you will meet traditional Danish cuisine with a Nordic touch. When the weather allows it, our atrium is open and here you can enjoy a nice cold glass of white wine. You can relax in our lounge area where you can enjoy a pint of draft beer, a cocktail or just relax with family, friends, or co-workers.
The historic Hotel Kirstine is centrally located in Næstved. The building is a white half-timbered house that has been in use since 1756, giving the hotel the unique and special atmosphere of romance and coziness.
Hotel Kirstine has meeting and conference facilities, as well as their own restaurant.
Please note that Hotel Kirstine has parties at weekends. Call if necessary. and inquire about the possibility of "quiet" rooms.