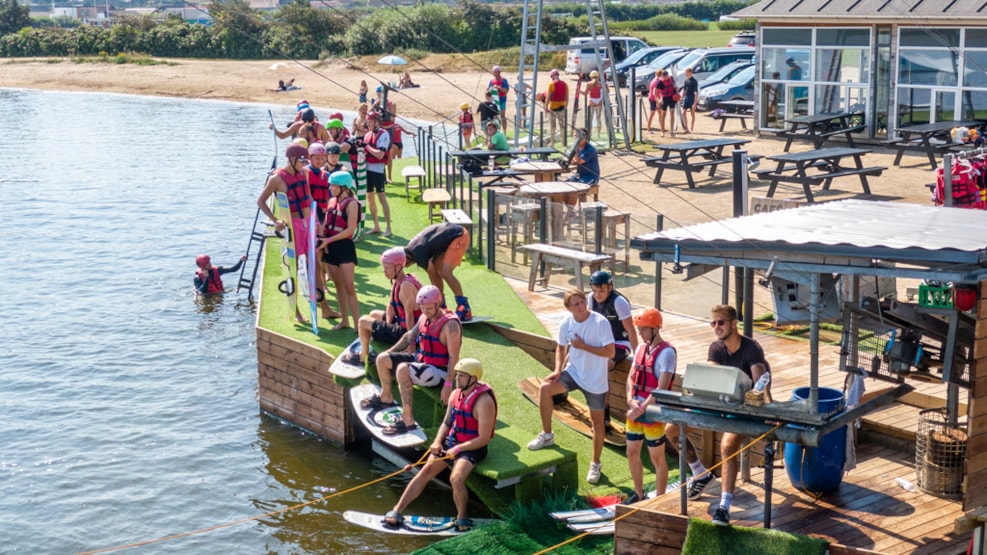 KABELPARK®
In Hvide Sande you will find Kabelparken, which offers wakeboarding and water skiing on the park's funicular railway. The cable park is for everyone who likes to play on water, whether you are a beginner or experienced, you can book teams with guidance and equipment. This means that at Kabelparken you can enjoy the summer and have a fun day with friends or family, where everyone can join.
Located in Hvide Sande is Kabelparken, where you can learn to kitesurf and as an alternative to kitesurfing on the windless days.
The actual pull on the funicular railway is reminiscent of the pull you will experience on a kite. That is why Kabel Wakeboard is the perfect training tool for kitesurfing, where you can practice your board handling and get to know the board without having to keep track of the kite. On the funicular railway you can train your balance and understanding of board sports on the water. Unlike kitesurfing, learning to kite with the beginner-friendly and stable conditions can go a long way.
If you already have good control of the kiteboard, there are new and fun challenges to be found on the funicular railway. In addition to great conditions for practicing tricks, you can also challenge your skills on the course's many features. There is, among other things, a rooftop and ollie barrier.
On the funicular railway you can also bring your own kiteboard. If your fins are higher than 30 mm or have a vertical front, it may be necessary to unscrew them.
In addition to kitesurfing, cable wakeboarding is also an ideal complement to a number of other board sports. These include windsurfing, surfing, SUP, skateboarding and snowboarding, which are often the sports where a cross is seen over to and from the cable.
The cable park offers various teams which are both for beginners and experienced. Here it is possible to get guidance and rent equipment.
The cable system itself pulls up to 10 people at a time, and around the track you can run various UNIT Parktech features; rails, boxes and kickers. There is also a small beginners course, which opens when there is a long queue at the large facility, as well as for kite beginners and intro teams.
Find information about opening hours and booking on Kabelparken's website.