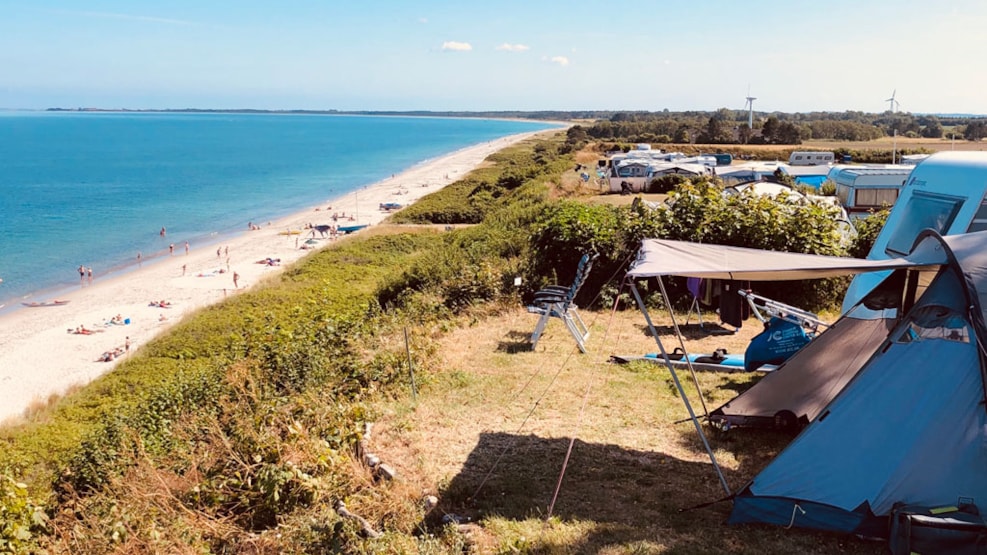 Klitgård Camping
Samsø's most beautifully situated campsite is located right next to a wide and lovely sandy beach on the northeast side of Samsø. With plenty of space in this area of natural beauty as well as tranquility. From a large part of the camp you have a magnificent view of the sea and the landscape around Nordby.
Amenities
Facilities are somewhat dated but work and are clean. There are 3 buildings with plenty of toilets and shower cubicles, 4 kitchens, free fridge and freezer service, living room with TV, barbecue, laundry, bicycle rental and the beautiful sandy beach ideal for swimming, sailing and water sports.
Families with children experience a togetherness that is difficult to find in everyday life – it is safe and the generous space provides children room to make new friends by the swings, the see-saw, the football pitch or the free mini golf course.
Lovely Nordby with restaurants, the yellow bell tower, the village pond and delicious ice cream shops is only 1 km away. If you want to buy groceries you have to go to the village of Mårup, which is less than 4 km from Klitgård Camping.
Dogs are welcome, but must always be on a leash in the camp and on the beach
Prices
Prices per night in DKK:
Adult: 110,- (including environmental fee)
Children (2-11 years): 60,-
Electricity: 35,-
Dog: 10,- (must always be on a leash in place and beach)
Rent: 40, - (high season week 27-32)