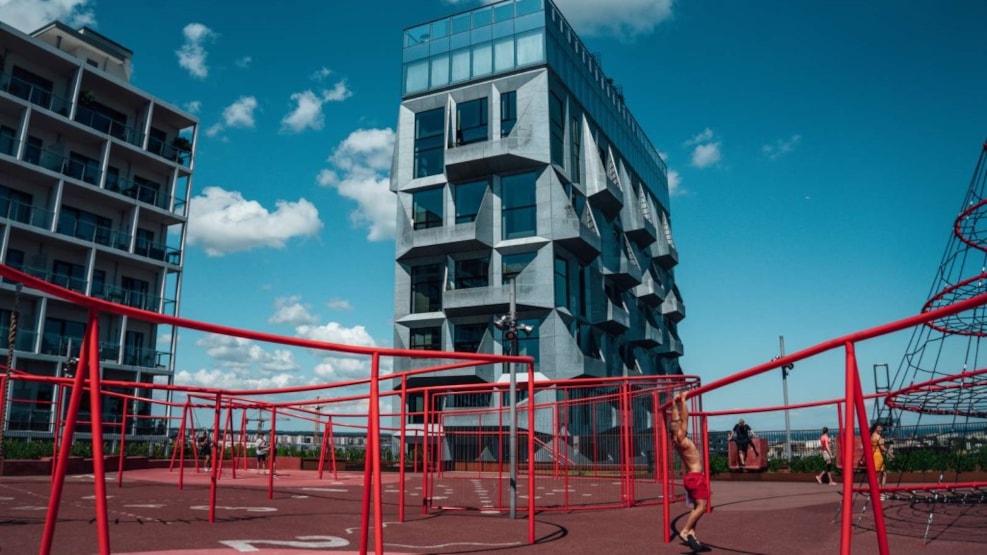 Konditaget Lüders
Welcome to Konditaget Lüders, a one-of-a-kind activity park 24 metres above the ground in Nordhavn. 
It's not your usual playground. At Konditaget Lüders, high up above the harbourfront in Nordhavn, you can work out and play with a view of the city and harbour on the roof of a multi-storey car park. 
According to JAJA Architects, car parks of the future should contribute to life in the city. In Nordhavn - a relatively new Copenhagen neighbourhood - there is not much room for recreational activities on street level. In this densely built-up area, the 2,400 m2 rooftop provodes an alternative urban space and playground that's open to everyone. JAJA Architects designed a building that rises 24 meters from the ground, offering a beautiful view of the Sound and harbour from the roof.
A one-of-a-kind workout
Bring the kids for an active outing, or use the roof's facilities for your morning workout. Konditaget Lüders has room for many types of training, including Crossfit, TRX training, box jumps, Panna football, a 60 meters sprint course, trampolines, swings, and a climbing spiral.
The roof is open every day from 07:00-22:00.