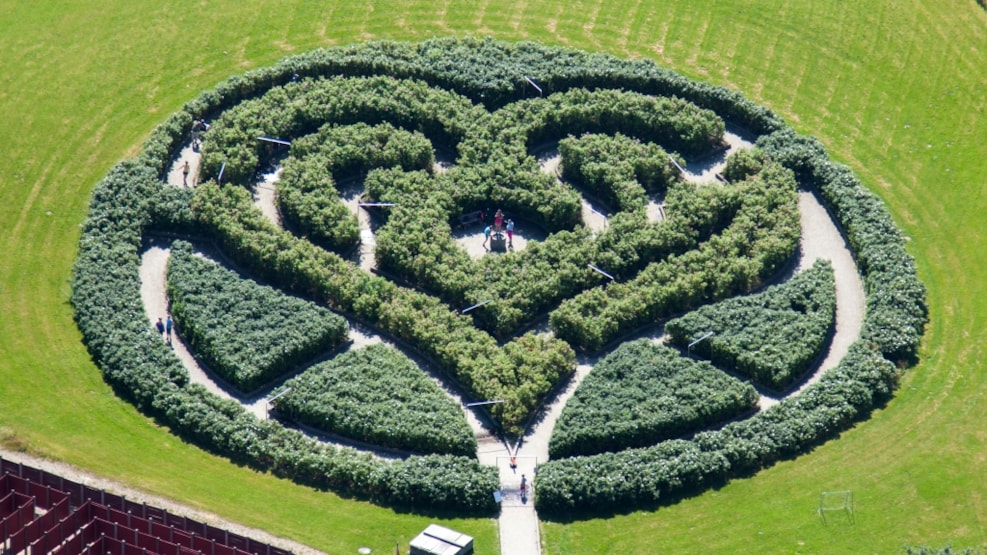 Labyrinthia - Fun, Play and Learning
Labyrinthia is a fun, enjoyable and challenging attraction for children, adults and seniors, where you can exercise both your brain and legs. They are specialized in having various types of mazes and labyrinths.
Fun, play and learning for everyone
Today Labyrinthia has 8 different mazes/labyrinths – plus one for DOGS, and a large indoor "Puzzle Center" with many different games and brainteasers. So come and try. There is something for everyone. You don't have to queue up, and the pace – that's up to you.
Many different mazes and labyrinths
The Football Race Maze is competition maze for all football wizards. Come and see what it's all about, and compete with your family or friends to see who is best.
In the 3D-Maze you can test and challenge your sense of orientation. The maze is completely renovated, and with new pathways. Download the free Labyrinthia App and scan the 8 QR codes in the 3D-Maze. Then you can download a certificate to your cell phone, so you can prove you've solved it.
You can also enjoy the sight and the scent of the hundreds of beautiful roses in the water maze (and perhaps become a bit wet!). If you download the free App, you can control the water gates in the water maze from your smartphone.
In the Dog Maze you can test the sense of orientation and sense of smell of your dog – and there is even a "doggy pub" for the four-legged.
Indoor-fun and a cosy break
Inside, in the "Puzzle Center", you can use your brains solving some of the 50 different games and brainteasers at the tables.
If you need to renew your energy upon all the challenges, you can buy food and other refreshments in the café. You are also welcome to bring your own packed lunch and enjoy it outside, under the pavilion roof or on the large terrace. They also have two large gas BBQ's at your free disposal.
You can learn more about the history of mazes/labyrinths, and also try the two historic labyrinths – the Trojaborg (a Bronze Age pattern) and the Chartres (a Middle Ages pattern). Though they are two so-called "one-way labyrinths", they have still got some magic.
Check Opening hours and prices here.
See, what others are sharing on Instagram