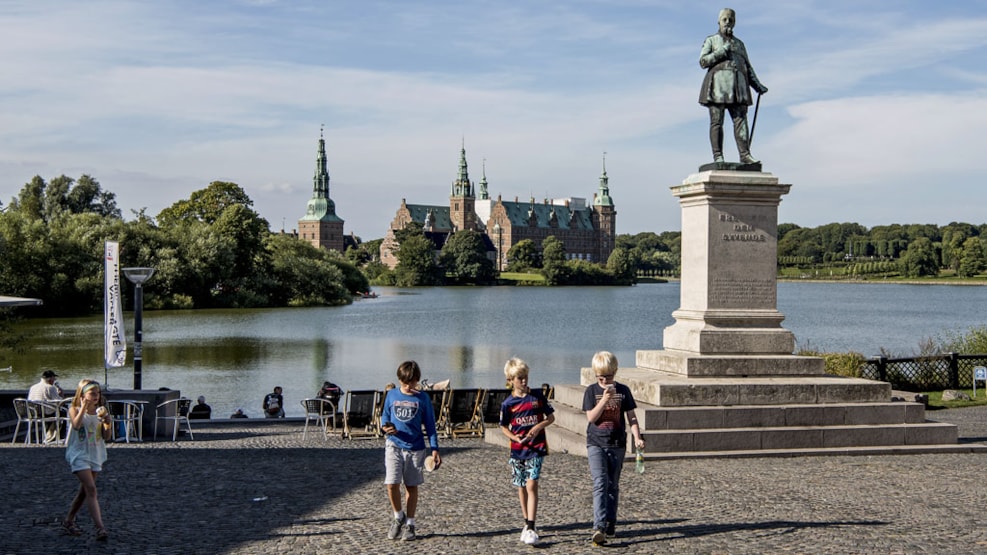 The Lake Path in Hillerød
By bike or foot along the lakeshore between castle and town. Søstien offers a scenic bike - or walk around Slotssøen, with magnificent views of Frederiksborg Castle. You are close to both Hillerød's city centre, a unique renaissance castle and lovely nature with lots of water, trees and birdlife.
Søstien – the Lake Path – is a scenic walk around the Castle Lake with a view of the majestic Frederiksborg Castle from all angles.
From Hillerød square Torvet walk to the lake and follow the trail to the left along the lakeside. You will pass through Posen, a small park area with playground and toilets. The path continues along the lakeside until the main entrance to Frederiksborg Castle. Continue along Slotsgade and turn right onto Møntportvejen. In the white building on the corner, Annaborg, Hillerød' s tourist information is situated.
Walk through the castle and the impressive gate, Møntporten, leading into the castle garden. Continue with the lake on your right, and turn right when you reach the Baroque Garden. Follow the path to Jægerbakken; you will pass a staircase leading up to Hillerød Town Museum. Continue the walk along the lake, enjoy the view of the castle and soon you will be back at the town square again.
The walk is 2,4 km long and can be made in approx. 30 min. on foot. Suitable for wheelchairs and prams. Cycling is not allowed on the stretch between the small park, Posen, and the main entrance to Frederiksborg Castle.