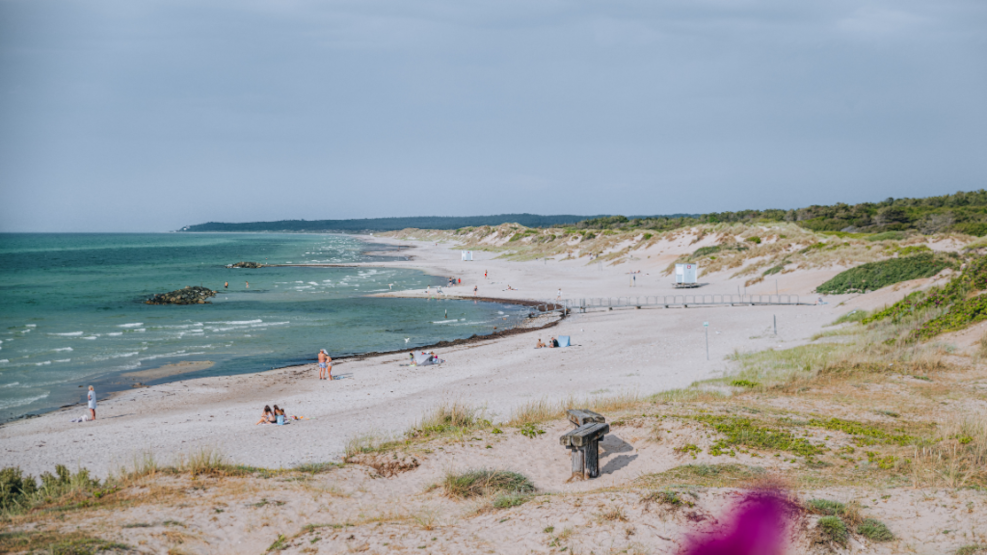 Liseleje Beach
One of Denmark's most beautiful beaches is located by the Kattegat. The beach in Liseleje spreads its wings of sand and is incredibly child-friendly. There are lifeguards on the beach during the summer period and the beach is assigned the Blue Flag. 
Sit in one of the many dunes or by the water's edge. The choice is yours.
Safety is top-notch if you go to the beach with the kids; whether they should burn themselves on a firefighter or step on a sharp rock, the lifeguards are ready to help. Enjoy the lovely water in safe surroundings and feel like an absolute charter in the middle of Danish nature.
The waters around Liseleje can be used in many ways - you will appreciate why Liseleje is a natural part of the Danish Riviera.
Close to the beach, there is a large parking lot, an ice house, a cafe, an activity area for younger children, and a game of miniature golf. There is disabled access to the water's edge from 1 June to 1 September during the bathing season.
The blue flag on Liseleje beach
The blue flag helps to give the beach quality and enhances the experience for everyone. The blue flag means that the beach must be clean and well-maintained, but it also informs about how you, as a guest, can help care for the environment. To be a blue flag beach, some criteria must be present.
At Liseleje Beach, you will therefore find:
Clean bathing water
Lifesaving and first aid equipment
Nature and environmental dissemination activities
Information about environmental conditions and nature areas
Toilet facilities
Waste facilities
Information board
Is it time for a break in the shade?
Right by the beach in Liseleje, experiences await the whole family. Whether the hunger is pressing or it's time for ice cream, play in the shade.
Enjoy an excellent juicy burger with a freshly squeezed glass of elderflower at the beach bar Haveje. It is located only 150m from the water's edge. Lisestuen's ice cream bar is ready with a wide selection of ice creams if it's time to cool down. Visit the neighbour of Lisestuen's ice cream parlour - Liselegelandet.
There is an excellent course with electric cars for the little ones and an adventure mini-golf course where the whole family can challenge each other. You will find the popular and large nature playground Havtyren on the other side of the road.
Dogs on Liseleje beach
It is not allowed to bring your dog to the beach during the bathing season from 1 June to 15 September.
Practical information
There is gravel parking right by the beach.
The lifeguard posts are staffed every day of the week during the bathing season from 1 June - 15 September.