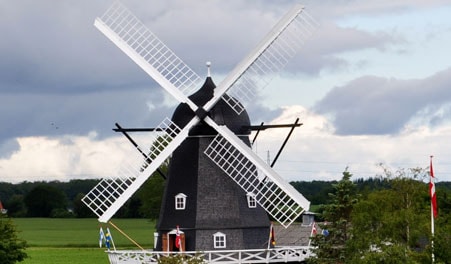 Majbølle Mill
In 1612 the original mill was built on this site. It was a so-called "Postmill" and was in operation until 1896.
During the 284 years the mill was in operation it underwent several repairs and was owned by many different people.
In 18896 the mill was torn down and replaced by a more effective and modern "Holland-mill".
After World War II the usage of the mill declined because more modern machinery was put into use.
In 1982 the active miller, Gunnar Rasmussen, along with his wife, Grethe, transferred the ownership of the mill to Majbølle Møllelaug (Majbølle Mill Corporation), which had recently been founded.
In 1989 the mill was restored and opened to the public. Today the loft holds an exhibition showing the history and restoration of the mill.
The granary serves as a showroom and meeting room. In the front room there is a display of old field-working tools.
Majbølle Mill Corporation arranges several events throughout the year, e.g. the Open Mill day (A national event), a Christmas market and they manage the café.
The is free entrance to the mill
Opening hours
Danish Mill Day with flea market on Sunday. June 21 pm. 10-15
The summer holidays - open every Tuesday during the period from June 30 to August 11 at. 10-15
Autumn break - open Tuesday, Wednesday and Thursday. 11-15
Christmas Market weekend of 21 + 22 November at. 10-16